In the recent sets that LEGO has released, there was one accessory that caught my eye: a lantern.
For me, it's a cool new piece that could fit in plenty of stories. I could see some scared children walking around a forest, or maybe Indiana Jones exploring a cave or even a sailor on his boat in a storm trying to see what's in front of him. Well, it's a fun accessory that I will keep at hand.
At the moment you can find it in the new Harry Potter sets (which are not available in France, yet) or in the new line of accessories polybags called LEGO Xtra.
And recently, I was able to get my hand on one.
So immediately, I wanted to play with it in a picture.
The picture
The idea I had in mind is simple: a dark story with a wolf carrying an axe at night, a lantern in the other hand.
I had some ideas for location and one opportunity presented itself: I went for a photowalk with friends during an evening and it was the perfect moment for such a picture.
But before, at home, I remembered that I had some "toys" that could be great to add to the picture.
If you've met me, you know that I love to carry small lights to illuminate my pictures. I started with Enevu Cubes, then added some Aputure Amaran AL-M9 to the backpack and now, I am trying Lumecubes (and more on that soon on the blog).
But today, I won't be talking about those.
I bought some time ago, a lighting kit on "Light my bricks" to light up one of my modular buildings, but I never found the time to set it up.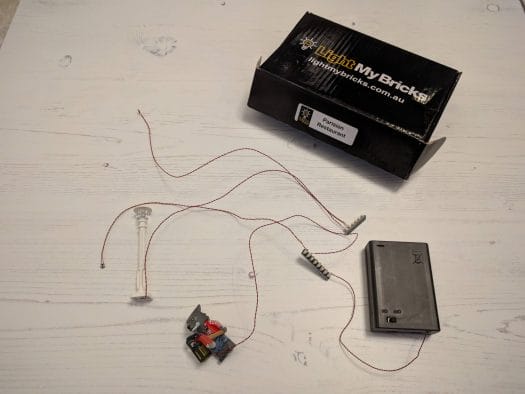 So, I had at home those LEDs at my disposal. They are really small (the size of a stud), bright enough to add some ambiance in a picture. The only downside is that you need a battery pack, meaning that you have wires connecting the LED to the energy source… But it's normal since we haven't found a way yet to miniaturize a battery, the size of a stud :)
Anyway, with those lights, it is easy to put the led inside the lantern and have it lit while held by the minifigure. Then, it is just a matter of hiding the wires the best you can. And if needed a quick use of Photoshop can help in having the last pieces disappear.
So, I went near Notre Dame Cathedral, in Paris, on a bridge, set up the scene, lit my lantern and took the picture.
And the result was great. The light inside the lantern adds so much ambiance to the picture.
Additionally
And since these lights are originally designed to illuminate buildings, "Light my bricks" provides "Expansion boards" inside the kit to connect several lights to the same battery. This is also a good news for us, toy photographers, as this means that we can put several LEDs in the same setup without needing multiple battery packs. This would work perfectly if we want to have several bikes at night with their lights on for example.
Additionally, "Light my bricks" offers already equipped light posts with the wire hidden inside the pole. It's a great accessory that can create a nice mood for a picture. Some bluetac under the post helps keep it in position and with some Photoshop magic, the wire disappears.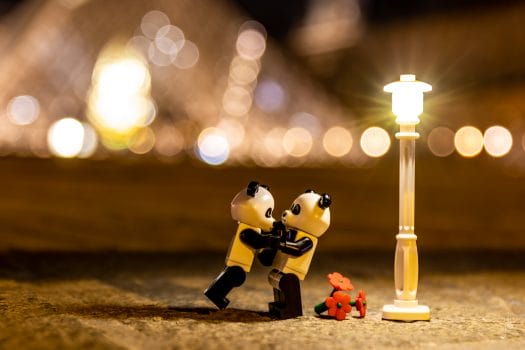 I hope that you've enjoyed this little "behind-the-scenes" of some of my pictures. For your information, this is not a promoted advertising. I bought my kit a long time ago and thought I would share with you another way of using those small LEDs. The current kit I own only has white continuous lights (and some blinking ones), so I may buy other colors to add to my pictures and thankfully you don't need to buy a full kit to get the lights you want. You can buy individual lights directly on their website.
Julien / Ballou34
If you liked this article and want to learn more on the behind-the-scenes or discover some tips and tricks, don't hesitate to let us know in the comments.
As well, if you want to share with the community a cool technique or how you made a specific picture, please reach us with the contact form and we will help you spread the word.
Aeronautics engineer by day, toy photographer by night.
Exploring the world with his plastic figures.