Dinosaur Nostalgia and Dino Surprise
There are two things that make me incredibly nostalgic.
First, there is Space. Whether it is LEGO Classic Space, LEGO (less classic) Space from the 90s or Star Wars, it's one of my oldest Passion.
Then there are Dinosaurs. As far as I can remember I've loved them. Looking backward, I think it might be because I grew up during a period with many great dinosaurs movies. I could cite "The Land Before Time" and "We're back! A Dinosaur's Story". And of course Jurassic Park… It's partly due to its commercial success (and technical achievement) we now have such great dino toys.
Since it was known that there would be a second Jurassic World movie (and thus more LEGO sets), I've been looking forward to the new LEGO Dinos. Now that I've had time to play with some of them (and take pictures), it's about time I write a review.
These sets are full of Surprise (which happens to be this week's #SiPgoes52 word).  Both bad and good!
(Note that this post is about my personal opinion about both the sets and the movie on which the toys are based. I don't aim at being objective in any way. Although I forced myself to focus on the positive side of the toys, be aware that much of this blog post started out as a big rant against the new Jurassic World movie.)
Jurassic Park and Jurassic World
Before talking about the toys, let's talk about the movies. (This is where my big rant is supposed to start!)
Jurassic Park is still one of my favorite movies, alongside Star Wars and Back to the Future. They all have a strong nostalgic power on me, and they are among the movies that seem to never age.
Many years after Jurassic Park 3, I had stopped hoping for a Jurassic Park 4 movie. When it was announced that there would be a new movie in the franchise called Jurassic World, I was expecting the worst. Because my expectations were so low, my feeling after going out of the movie theater was quite positive. It wasn't a great movie, but not as bad I was afraid it would be.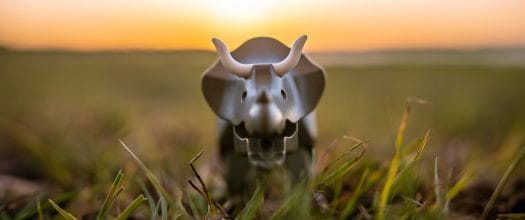 But my feeling changed when I watched the movie a second time. Although I enjoyed the first part of the movie when the kids enter and explore the Park, I can't say the same of the remaining. It's not that the movie is bad, but it doesn't have what made me love the first Jurassic Park. Jurassic World mostly lacked that great feeling of Adventure and is too focused on trying to be some sort of action-horror-monster movie.
So it's nothing to say that so far, I only expect Jurassic World Fallen Kingdom to be worse. (That said, I'm still going this weekend to see it on a big screen…)
Ok… Rant (almost) over!
The LEGO Jurassic World sets
I could add that the first wave of LEGO sets based on Jurassic World was terrible, but honestly… Who cares? No matter whether the movies are good or not, those LEGO Dinos are a must-have for anyone who loves both LEGO and Dinosaurs.
For me personally, they're also the sets that might have had the biggest impact on my photography. Two years ago I bought two of them and it might have been the best LEGO purchase I ever did. Out of these two sets, T-Rap was born. It started out as a way to mock Jurassic World's Indominus Rex.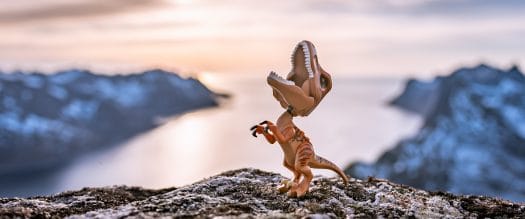 Since it was official that LEGO would make sets based on the new movie, I waited impatiently to see the first official pictures. T-Rap was in need of company and I was hoping to make him a little brother or sister.
The first pictures officially released were a bit disappointing, but later on, hope sparked again with the images of the new Carnotaurus mold…
Bad and good surprises
I tried to get my hands on these new sets as soon as possible. In particular 75927 Stygimoloch Breakout, 75929 Carnotaurus Gyrosphere Escape and 75930 Indoraptor Rampage at Lockwood Estate. The first two in order to make a new Hybrid Dino by combining the Carnotaurus head and the Stygimoloch body.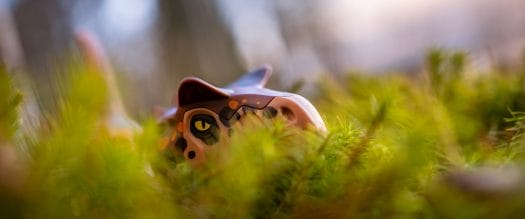 But it wasn't love at first sight. After opening the two sets to only get the dino parts, it's been a big disappointing surprise. The head can't be angled as much as the T-Rex, and thus there is very limited posability when combining the Carnotaurus head with a Raptor body.
But despite my initial disappointment, I forced myself to go out and play with my new hybrid. And thanks to the power of play (and photography), I fell in love with my new buddy. Yes, there will be limitations in terms of what I can do with her, but at the same time, I'm getting used to being limited in terms of posability. Between minifigs with small legs (thanks to Yoda and Aria!), toys with no articulated limbs (thanks to the Moomins) and Minidolls (thanks to the LEGO Elves Dragons), it shouldn't be a problem.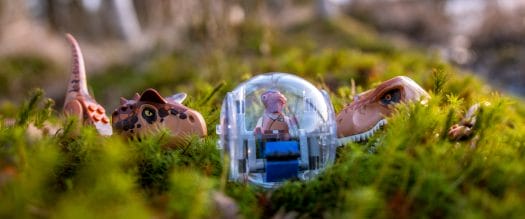 More Hybrids
I didn't buy 75930 for the Indoraptor but for the house. The existence of this dinosaur monster is responsible for me having given up hope on the new movie. But still, I forced myself to photograph it too and I have to admit… It is fun to photograph and play with.
That said I find that the black color makes it hard to photograph outside and I really wish it wouldn't look so mean and vicious. But despite all this, I can only praise the LEGO designers for their job.
The other Dinosaurs
The new color scheme of Blue looks amazing, although I have no idea why it has been updated. Is it because of the movie or just an improvement from LEGO? I guess I'll get the answer in a couple of days.
The baby dino was a good opportunity to use my macro lens. Still, it was quite a challenge. Because it is so tiny, it was hard to get the focus right… At least when shooting directly against the sun without a tripod.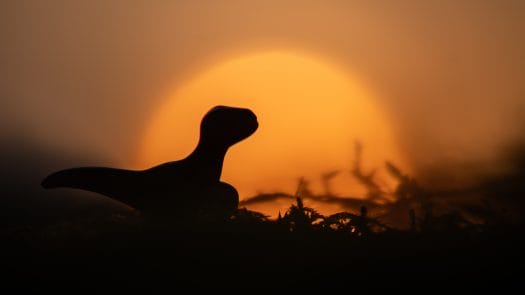 Gyrosphere
Besides the dinosaurs, I was looking forward to getting one of those awesome gyrospheres. They are fun to play with and look amazing. But they're also quite difficult to photograph. My first try was on a cloudy day and I got surprised. They are so many reflections on these round pieces of transparent plastic. My tips to photograph a minifig inside is to use a black reflector, not to reflect light but to block it!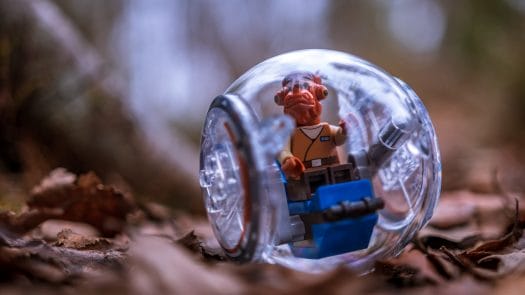 Alternatively, going out on a sunny day makes it easier (but then using a reflector to lift shadows might result in more unwanted reflections…). Using a polarized filter can be another option I have yet to try.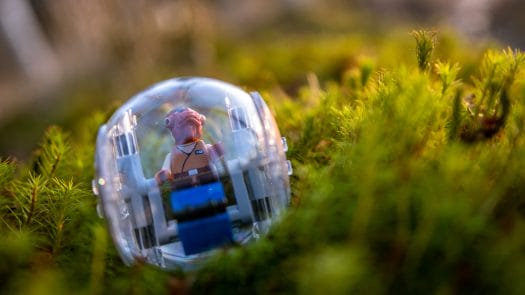 The minifigs
Like the first wave, this second wave of Jurassic World sets include some great minifigures, in particular, the civilian ones. I'm definitely not a fan of the security guards. They have too much of a military look to me.
The only minifigs that have sparkled some photographic interest in me are the main characters, Owen and Claire.
The other sets
I will eventually get 75933 T-Rex Transport. It contains a new T-Rex color and although I've got no idea who is Zia Rodriguez, her minifigure is superb. Although my interest in the vehicle (or the other minifigs) is still limited, I can make the same comment than I did with 75917 and 75929. This is how the terrible 75918 T-Rex Tracker should have looked like.
But more importantly, I'm looking forward to also acquire 75932. We finally have a set based on the original Jurassic Park movie. I think the vignette itself isn't amazing. It's small and tries to feature too many different scenes altogether. But the dino and the minifigs are an absolute must-have for anyone who, like me, was heavily influenced by the first movie some 25 years ago.
It's unlikely I will get any of these anytime soon… In the meantime, I will continue to enjoy playing with the Dino buddies I currently own…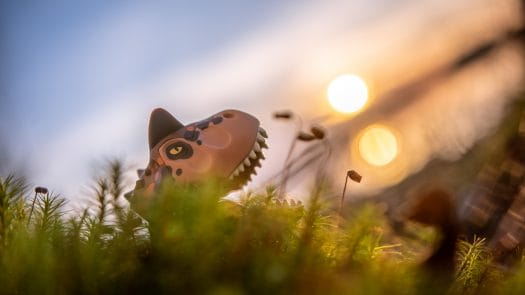 Sharing the Adventures in The North of my Plastic Friends.