The first series of the LEGO Batman Movie minifigures was a mix of much-loved characters coupled with freaks, geeks, and oddities from the DC universe. Series 2 continues along the same line introducing us to even more lesser known characters and super heroes. I had to utilise google on more than one occasion to find out exactly who they were. But that being said, I think folks at LEGO have excelled themselves with this series.
Before I look at each minifigure in a bit more detail I just want to explain my idea behind this review. I wanted to give the review some focus and so came up with the idea that the Joker himself would be the photographer. I would still shoot some of the minifigures in my planned portraiture style, but also shoot some behind the scenes shots of the 'Joker's photoshoot'. By doing this I felt it would give me scope for some comedic setups and nice composition.
Tropical Joker
The first minifigure I shot was the Joker himself. I'm a really big fan of the LEGO Batman Movie version of the Joker. I think this minifigure, clearly inspired by The Killing Joke graphic novel, is a fantastic variant.
His summer holiday outfit has some quality printing, I especially love his sandals and card suit tattoos. He also comes with some great accessories. His rubber ducky in Joker colours even has a small puncture repair patch printed on. Seeing as he comes bundled with a camera I couldn't resist recreating The Killing Joke cover.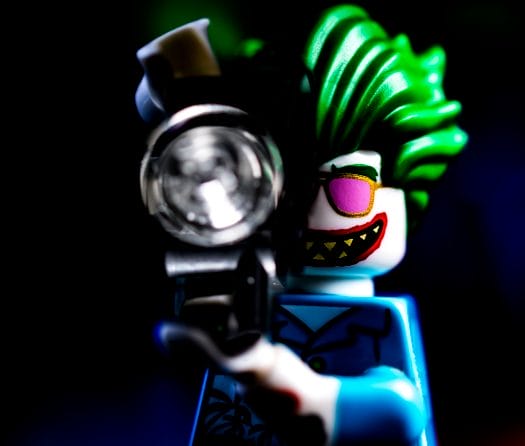 Mermaid Batman
You can't have the Joker without having Batman for him to fight and what's the perfect batsuit to wear into battle against a tropical joker? Mermaid Batman of course! Ok, I have to admit this is one of the strangest iterations of Batman I think I have ever seen!
Luckily he's wearing a shell bra or we might have seen a return of the infamous bat nipples! Less said about that the better
Swimming Pool Batman
Nah nah nah nah nah nah Bat Pants!
There is so much to love about this version of Batman. The dolphin accessory is such a bonus and I'm sure the printed torso will come in very handy for future shoots (although I'm sure Batman had nine abs not eight!)
I loved the idea of Batman doing some modeling for the Joker…
…and then the Joker photobombing the all-important close-up!
Vacation Robin & Alfred
Joining Batman on his holidays is his trusty sidekick Robin and his lifelong butler/friend/surrogate father Alfred. Robin is decked out here in a Robin themed Hawaiian shirt and green shorts. Alfred in a classic Victorian style black and white bathing suit. While Robin has chosen to listen to some music on his beatbox and have an ice cream to help him relax, Alfred has opted for a lovely drink complete with cocktail cherries on top!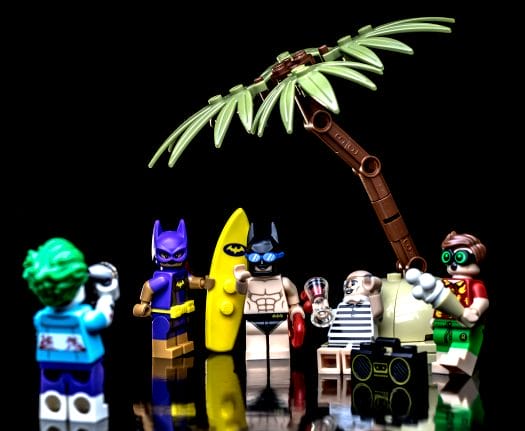 Vacation Batgirl
If Batman is on holiday then I guess Batgirl aka Barbara Gordon can take a break too! While Batman clearly wants to laze around on his giant inflatable dolphin, Batgirl is going for the more extreme approach to relaxation, surfing! What I really love about this minifigure is the printing on the back of her torso. Absolutely perfect recreation of a wetsuit.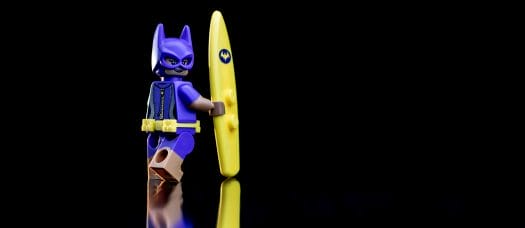 Soccer Mom Batgirl
Batgirl's second iteration in this series is a Batman superfan! Complete with a yellow and black tracksuit, with some exceptionally good printing down both arms, a smaller more feminine bat cowl and a black cape.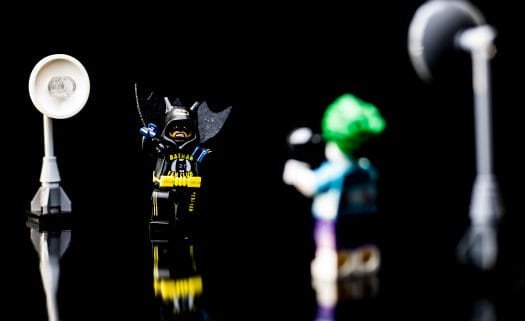 I actually had a lot of fun photographing this minifigure. Being Batman's number one fan I thought I would try and get her into a variety of batmanesque poses.
She was so happy with the results she insisted on paying me with her bat bucks at the end!
Black Canary
With only two versions of Batman being included in this series the superhero duties fall to some lesser known members of Super Friends (probably the goofiest name for a bunch of superheroes ever!)
First up The Black Canary, who interestingly was actually one of DC's earliest super heroines. (She first appeared in August of 1947)
Without a doubt, she has my favourite facial expression out of this whole series (and probably one of my favourite all time faces on a minifig!)
Her long blonde hair means posing is somewhat limited as she can only really look to the front.
However, it's still possible to convey a whole range of emotions just with a simple pose and that face! I think she will come in very handy in future photographs.
Black Vulcan
The black Vulcan's helmet is clearly a reskinned version of The Flash's but the rest of his printing is all new. I really enjoyed shooting this figure, more than I thought actually.
Black and yellow is a very striking colour combination and along with his semi-transparent yellow lightning bolt accessories, you can create some quite striking images.
Apache chief
Ok, it was bound to happen that out of twenty minifigures there would be at least one I wasn't that bothered about and sadly it's this guy. While he certainly does look like his DC Super Friends equivalent I just don't think he's as visually interesting as the other characters in this set
Wonder twins
Two for the price of…well, two as you have to buy both separately!
Identical hair pieces, identical capes and identical legs. It's only their faces and slight differences on their torso that separate them. Like most of the minifigures in this range though they do come with some really nice accessories. Jayna's record and 'party album' printed tile being the highlight.
But overall I think maybe two minifigs for the true DC fans and LEGO minifigure completionists out there!
Hugo Strange
And so to the villains and starting with probably the most villainist villain of them all. (Just google what he's got up to!) This guy is mean and he looks it too. The two beakers he comes with are really nice accessories but I just wish they made his beard look a bit more like a beard. To me, it looks more like a large scarf or fur lined top. Still, the facial expression definitely conveys a terrible, evil genius at work.
Clock King
If you are going to call yourself the Clock King you better live up to your name and boy, oh boy, this guy doesn't disappoint! He's got clocks all over his legs, torso…and, oh yeah, his entire face is one giant clock! Bold colours, bright green cape and wonderful detail on the back of this head. My only disappointment is the two generic spears he comes with. It would have been nice to have something a bit more bespoke, but hey the figure himself more than makes up for it.
Dr. Phosphorous
I wasn't sure about this minifigure when I first saw the pictures of him and I still can't make my mind up whether I like him as a minifigure or not. There's just something about that printing that for me doesn't sit right. However, he's definitely made for a striking picture. His almost luminous colour, coupled with the semi-transparent bright green bolts works so well against a stark black background.
Killer Moth
I really wanted to get a good picture of this guy but he seemed more interested in the lights!
Seriously though, this minifig has a real retro vibe to him with his 1950s sci-fi b-movie style zapper gun. It was first seen on the b-movie minifigure of the Series 16 minifig collection but here recoloured in gold. His bright multicoloured outfit, orange wings, and wonderfully goofy helmet complete his look.
Friends are Family Harley
I have a lot of time for both Harley Quinn as a character and Harley Quinn as a minifigure. Her latest incarnation is really quite spectacular. While there is nothing new about her hair piece, tutu or roller skate accessories, it's the beautiful design of her torso that really catches the eye. Silver polka dots cover both her chest and arms and really catch the light.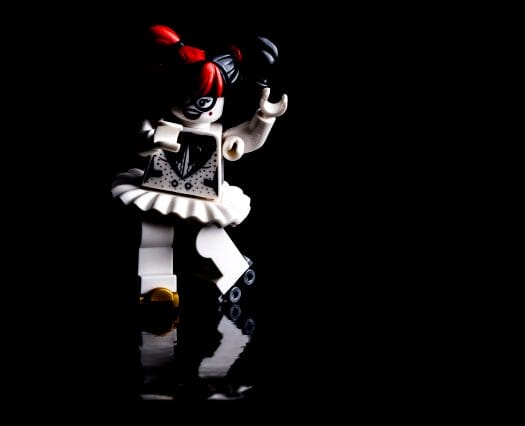 Friends are family Alfred
Alfred is the second minifig based on the 'Friends are Family' ending of The LEGO Batman Movie. I have to say this guy rocks! Check out that white tuxedo (complete with tails) killer shades and just look at his cool red guitar! You certainly get a lot of bling for your bucks with this minifigure!
Jor-el
It seems pretty much every new minifigure series must have at least one with the obligatory sloped brick bottom/dress design. They usually don't bother me, but this time, it's probably one of the best in the whole set. Superman's old man, Jor-El!
He looks suspiciously like Marlon Brando to me, which I assume is intentional as he is clearly based on the character from the original Christopher Reeve Superman films. This is a good thing, I absolutely love that white superman hairpiece!
General Zod
You wait all year for a minifigure based off an actor's portrayal of a character in the original Christopher Reeve Superman films and then BAM, two come along at once!
This general Zod minifigure bears a striking resemblance to Terrance Stamp, who played Zod in Superman and Superman II.
While this figure may not be as colourful as some of the others in this collection there's just something about him I really enjoyed shooting. I really like the newspaper headline gag 'Kneel before Zod'. It inspired me to get one shot of him reading the paper, and another one using his red-eyed reverse face, kneeling in a power pose!
Dimitri AKA bricks_by_dimnico.