Friendship is one of the 5 words I selected in December before we embark on this journey. Not only Friendship is important to me, but it is also a recurring theme throughout my toy photography. Since I started to discover my own vision, Friends have been sticking around. This week I wanted to determine which of my toys were the best BFF, Best Friends Forever.
The Friendship between a Human and a Monster
One of the oldest friendships among my minifigs. Gollum and Spooky Girl have been sticking together in my toy box since 2015. Although I don't photograph them very often, they're almost always accompanying me when I go out with toys.
The Friendship between a Dinosaur and a Dragon

Most Minifigs might find T-Rap scary, but he's actually very friendly once you start to know him. So far he has mostly befriended Dragons, but enlarging his circle of Friends is on my todo list.
The Friendship between Dragons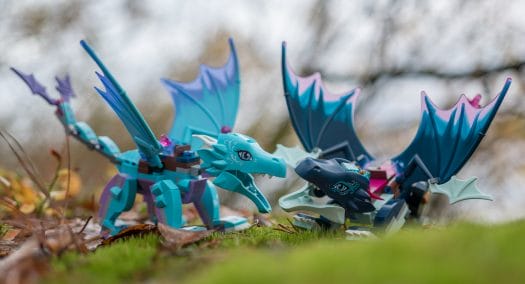 These LEGO Elves Dragons always like to play with each other.
The Friendship between a Human and a Droid
I had a great time photographing Rey and BB-8, wandering around either by bike or by foot.
The Friendship between Pirates
My two Lost Pirates, Jack and Morgan, always stick together. But one could rightfully ask if they're not more than just Friends… I honestly don't know.
The Friendship between Alien Vikings
My Togrutas of the North, Viking Ahsoka and Viking Shaak Ti, also like to wander together. Like Gollum and Spooky Girl, I don't photograph them so often, but they're almost always traveling with me.
The Friendship between Woody and his Teddy
Woody likes to make Friends, particularly during toy safaris, but his best plastic friend is his Teddy Thor.
The Best Friends Forever
But the best and strongest Friendship among my toys is the unlikely one between a Rebel Admiral and a Jedi Master. Master Yoda and Admiral Ackbar have been BFF since 2016. One of my early blog posts here was about how it happened. Since then I shared more than 100 photos about their Adventures online.
100 photos is a lot of candidates for this week's word. I chose a photo that is both one of my favorite photos of Ackbar and Yoda, and one of my favorites from my trip to the Lofoten.
But before reposting it, I decided to re-edit it and adjust the white balance (something I forgot to do last year). I wanted to make it more like I envisioned, like the World is coming to an End, by giving the photo a warmer and more purple tone.
Friendships in the Real World
But Toy Photography is not all about Plastic Friends. It's also about real Friendships, like the one you can create when attending a toy photography meetup. This week's word remembers me that I can't wait for our next Toy Safari which will happen in Paris in mid-June. It will be an event not only about meeting old Friends, but also new ones. So if you also want to make real Toy Photography Friendships, do consider coming up!
Sharing the Adventures in The North of my Plastic Friends.