Batman Rings Twice. Euh, Twenty Times.
When the doorbell rang twice and the postman handed me a carefully packed box with a SiP sticker on the front, I couldn't believe my luck. I've followed SiP for some time but never entered a competition or a request for collaboration, so to open the box and find an entire set of minifigures, for me to photograph and review, was almost overwhelming. I was so excited I almost didn't know where to begin; literally in this case- receiving TWENTY minifigures to review is an incredible honor but also a big responsibility.
In undertaking this task I wanted to take photos that showed the interaction between some of the key characters; I think with toy photography it's so important for the picture to instantly tell a story and make you feel like you're spying in. Due to weather/time of year, most of these photos are studio based, but as the year goes on and holidays take me to more exotic locations, I plan on retaking many of these pics and hope to share them with you here and on my IG feed.
Is it worth it?
So, let us begin discussing this eclectic new mix of figures. Before we look at them on an individual basis, it's worth considering: did Batman need a second set of figures? Well, of course, it makes commercial sense with this being one of their most lucrative cash cows, but thankfully this wasn't just a cheap cash in. Not only do they do justice to the core nucleus of Batman characters with fun and considered new personas, but they also provide a nod to some of the lesser known/appreciated members of the DC universe (I must admit, some of these figures have led me to do some research myself). This mix of new and old make this a fantastic set of minifigures and a worthy successor to the much-loved series 1.
The Beach.
Let's dive in by joining our favourite heroes (and villain) at the beach…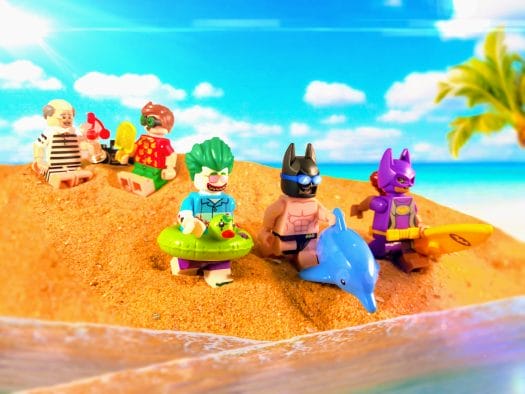 1: Swimming Pool Batman
Arguably one of the coolest new figures builds upon one of the first series very best by putting Batman in his branded swimmers (showing off obligatory six pack) and giving him one of the most desirable accessories to date: a dolphin! This is going to make a highly desirable accessory for future LEGO photography at the beach and I'm looking forward to using it in other shots. Batman's facial expression is one of pure joy/mischief which only adds to this minifigures appeal.
2: Tropical Joker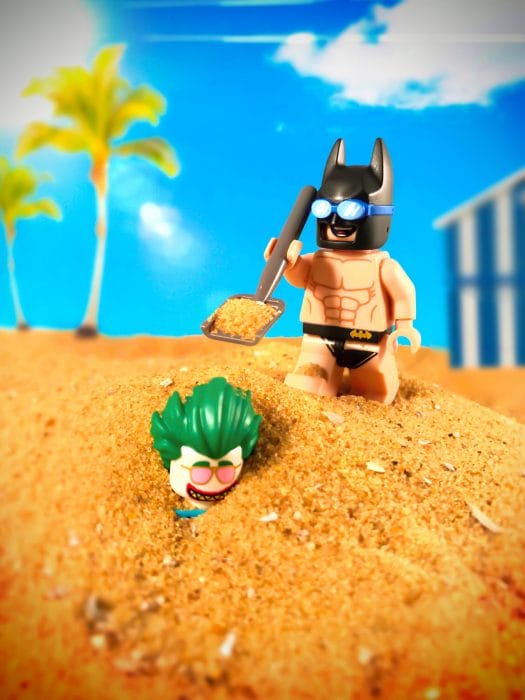 Surely this series' most desirable figure has to be Tropical Joker. His beach wear alone makes him one of the coolest figures, but when you throw in two of LEGO's finest accessories (the rubber ring and camera) and an ice lolly to top it all off, you've simply got one of the best value figures going. This is one figure and set of accessories I'll be using again and again; definitely my favorite and with so many distinct accessories, it should reduce the amount of time needed for everyone's favorite toy shop activity- "packet fumbling"
3. Vacation Robin
Vacation Robin sees everyone's favourite sidekick pick up his boombox and head to the beach (also managing to hold an ice cream about 60% of the size of his body- that's some skill!).
A great minifig using fantastic vivid colours for Robin's Hawaiian shirt and shorts and a great facial expression capturing Robin's usual level of awe and excitement- another top figure.
4. Vacation Batgirl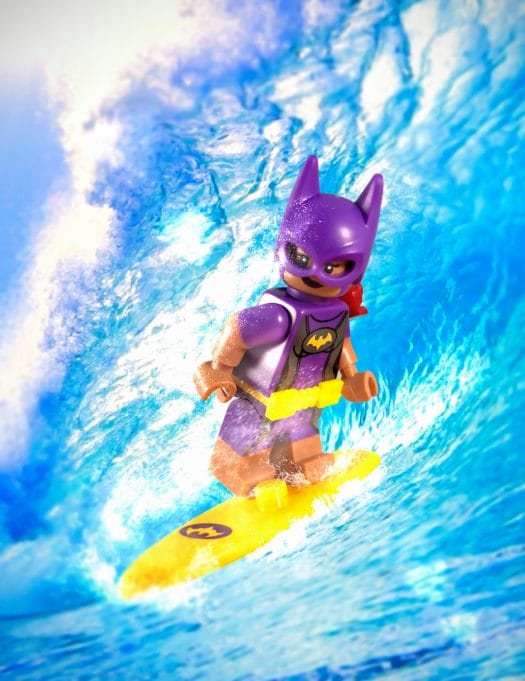 Any figure that contains a surfboard is one worth having. Batgirl dons a purple wetsuit and grabs her branded surfboard for this outing and makes one of the best Batgirl figures as a consequence. Personally, I love minifigures that allow you to convey action and the surfboard is a great way of doing this. The figure has some fantastic attention to detail with an attachable ponytail and the brilliant tool belt.
5. Vacation Alfred
Any figure that makes you say 'awwwww' has to be a winner. Alfred isn't afraid of joining his friends at the beach-but will only do so in style. An old school full body bathing suit (with collar- hilarious!) make sure of this. I'm always stunned by the amount of emotion they're able to convey through minifigures and this is one of their best; Alfred portrays reluctant joy at the prospect of heading to the beach. Just as well he's got a cocktail with cherries to put him at ease.
6. Friends Are Family Harley Quinn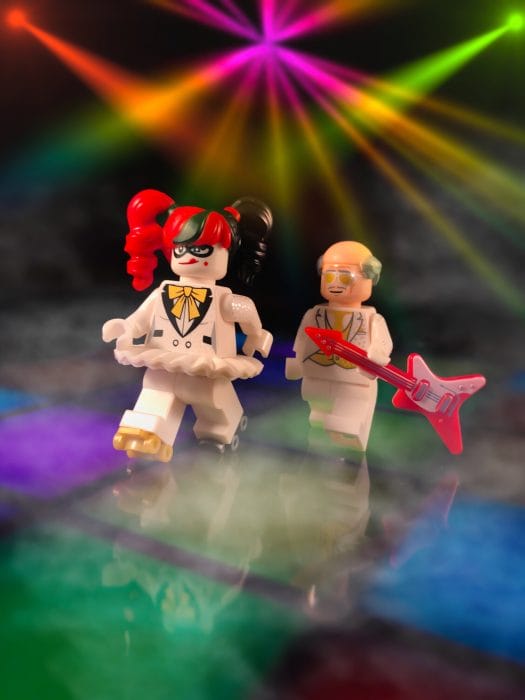 Tribute is paid to The Batman LEGO Movie's big final number with our next two figures. Harley Quinn dresses in her best white and gold disco clothes with odd colored skates (another great attention-to-detail accessory) before heading to the dance floor. Two facial expressions give you the option of making Harley look mischievous or mischievous.
7. Friends Are Family Alfred
The second appearance for Alfred sees everyone's favorite avuncular character take a change of direction in his matching white and gold suit. An electric guitar brings the cool factor and allows Alfred to make a killer duo with Harley Quinn and prepare to rock out.
8. Mermaid Batman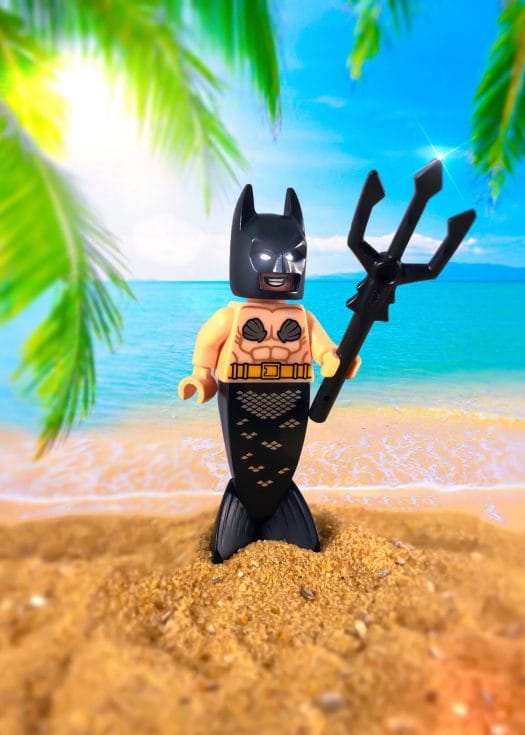 Surely one of the most surreal contributions to the second series is Batman in mermaid form. Despite almost no prominence in the film, this wonderfully weird minifigure has taken center stage for the branding of the series 2 collection. Batman swaps legs for a mermaid tail and maintains his modesty with a pair of shells; a pitchfork gives him more in common with Ursula than Batman but a knowing smile makes this one of the most fun figures in the collection.
9. Professor Strange
A blink and you'll miss it appearance in the movie was enough to ensure an appearance for Professor Strange. I was most excited for this figure as I have been dying to get some of the beaker accessories; these beakers look like they really contain liquid, or in this case, something more sinister. The 'mad scientist' vibe is perfectly captured here with the bald head and beard accessory.
10. Soccer Mom Batgirl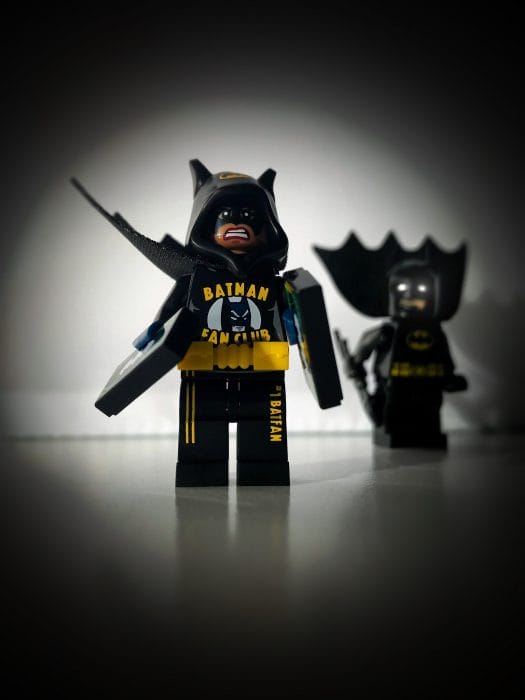 Another series highlight is the Soccer Mom Batgirl; after a run in with the Bat-merch gun, soccer mum is transformed into the ultimate fan club member. This minifigure has some tremendous attention to detail in the facial expressions, hood, and costume and provide some great parts for future MOCs.
11. Clock King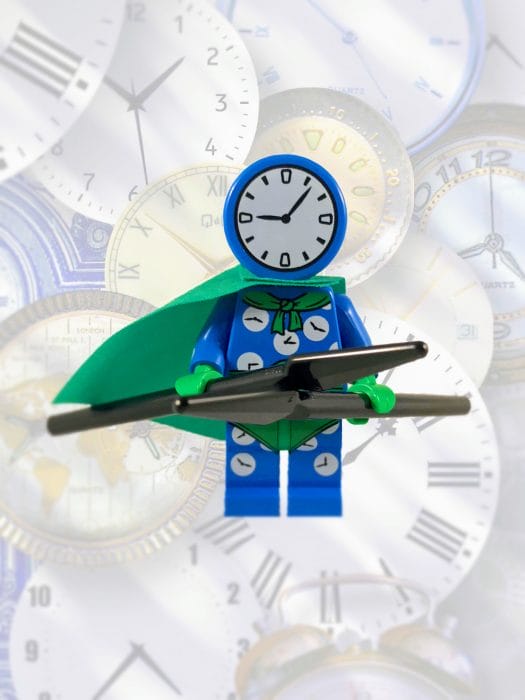 From here we start to swim into unchartered territory with some of the lesser knowns, yet fantastic characters, many from the wider DC universe.
Clock King is one of the most striking characters as the traditional LEGO form is traded in for a style we've seen with the previous gingerbread man figure. A great villain to add to your collection.
12. Killer Moth
Much like Clock King, Killer moth has embraced the camp that makes the Batman Movie so much fun, here sporting his neon persona. Not necessarily the most intimidating villain, but the butterfly style wings and headpiece make this a striking character and the stun gun helps to up the fear factor.
13 & 14. Wonder Twins Jayna and Zan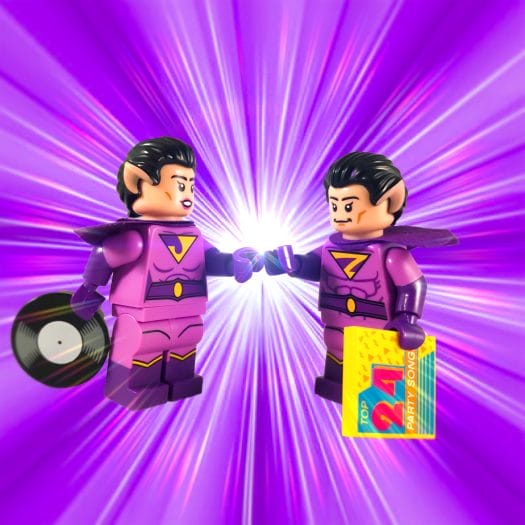 From planet Exxor, two of the truly obscure additions to this series are the Wonder Twins. With the respective abilities to turn into animals and any water based form (!?), they provide a great nostalgia hit with their love of all things the 70s, represented here by two brilliant accessories in the form of a record and record sleeve.
15. Apache Chief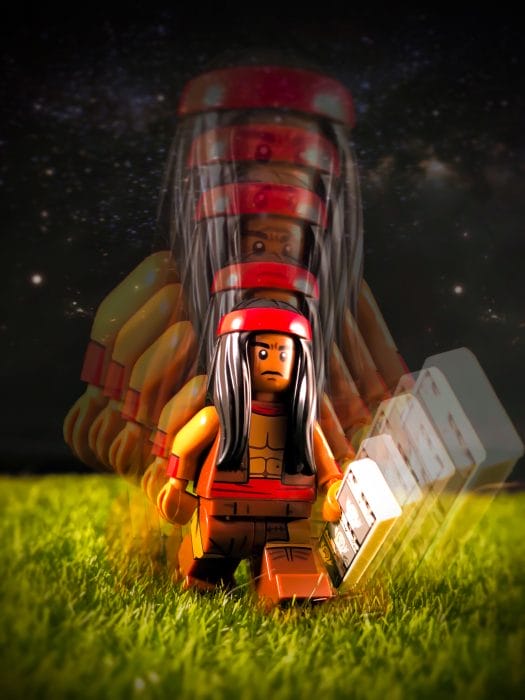 Delighted to see The Apache Chief featured in LEGO form; with the power to grow to multiple times his normal size (and once to planet-sized proportions!), he can challenge foes of all sizes. I was keen to portray the Chief's size and ability to grow through this picture and hope I managed to capture this do it justice.
16. Jor-El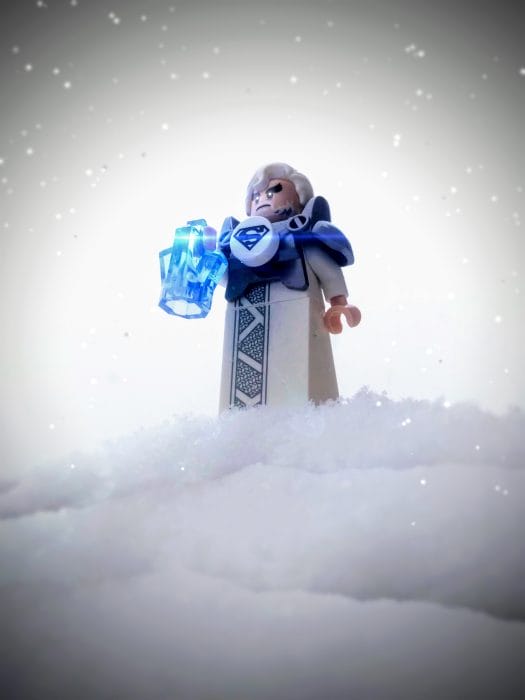 Superman's daddy makes an appearance in this stoic minifigure. The knowledge crystal makes a great accessory and a fun prop to play with light.
I'm not usually a fan of the 'skirt' style legs as they provide fewer opportunities to manipulate the figure, but I think it works well here.
17. General Zod
Another nod to Superman with a villain from the early Batman films. I was less familiar with this characters but the figure comes with dual faces and a fantastic newspaper prop with brilliant attention to detail.
18. Doctor Phosphorus
Cool! A great figure that really stands out from the set. This figure really captures the origins of the character from the reactor core accident. Although it has little to do with the Batman Movie it's a great addition and its coolest feature is that it glows in the door.
19. Black Canary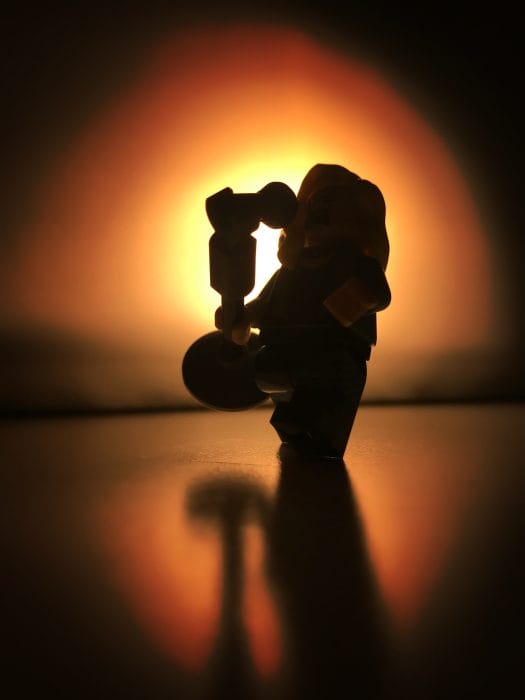 Have you seen a cooler minifigure face than this one? It perfectly captures the pitch of her Canary Cry and really brings the figure to life. The costume is quite toned down compared to some previous outings but still make a great figure and comes with the brilliant accessories of a microphone and stand- good accessories to use alongside Alfred's electric guitar.
20. Black Vulcan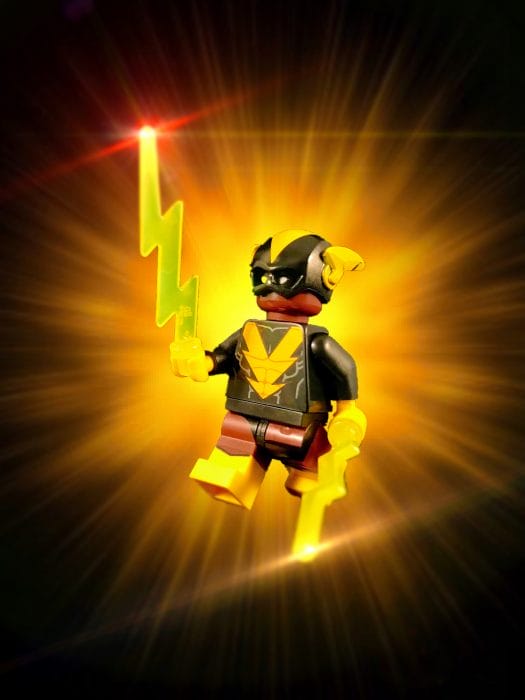 Much like Doctor Phosphorus, Black Vulcan really captures the essence of the character. Looking a lot like The Flash, Black Vulcan's accessories in the form of two lightning bolts convey his superpower with the ability to control all forms of electricity. My only gripe with this character is that due to the helmet, it's hard to convey much with the characters facial expression.
Final thoughts
Reviewing this series has been an absolute joy. Getting to play with and photograph some of LEGO's best-known characters, as well as get to learn about lesser known characters from DC and other universes has been a great learning opportunity and allowed for some fun photos. I can't wait to take these figures to other locations throughout the year and create some more miniature adventures.
Thanks, Batman, for ringing twice.
Or twenty times.
You are always welcome.
Adam.
Batman Scriptum.
A little note from good old Batman here at SiP. The full series two is still available in most shops around the globe, but hurry, as they will soon be replaced with another series not featuring me. So go get the full set or the ones Adam inspired you to get.
Special thanks for Adam to participate in this massive review. Any and all delays are due to the SiP and Batman Crew suffering a Batman flue and in no way Adam's fault.
Special thanks to TLG for providing the review set. 
Miniature Adventures – Hands up if this idea has gotten drastically and financially out of control