I'd like to thank Stuck in Plastic for inviting me to write this post about "Fitness".  When I was reviewing the 52 words for the Stuck in Plastic challenge, the word "Fitness" stood out to me right away.
Fitness and Gymnastics
What is it about the word "Fitness" that inspires me?
It's the idea of movement and capturing movement.
I spent over 20 years doing gymnastics when I was younger. Gymnastics is a difficult sport that requires strength, flexibility, and speed. In those years, "Fitness" meant preparing your body to be able to do complicated and dangerous skills.
Gymnasts stay fit and strong by doing conditioning exercises like pull-ups, push-ups, rope climb and running, in addition to training their skills and routines. To represent this level of Fitness, I decided to take a photo of the gymnasts doing conditioning (rope climb and lunge walks) in the new gym above the Downtown Diner (I slightly modified the gym by adding the rope and tile floors).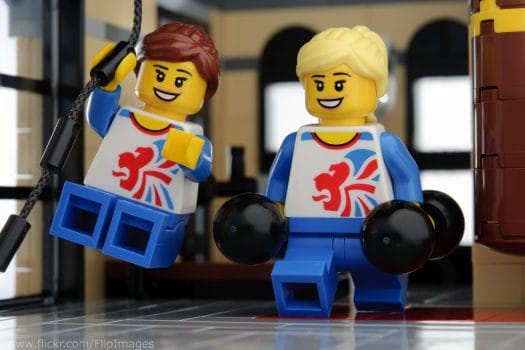 Fitness Nowadays
Since I've retired from gymnastics, "Fitness" now means something different. It means taking care of my body and trying to heal the injuries from earlier in life. It means taking time to get off the computer to do handstands, pushups and flexibility work or just walk around.   It's still a big part of my life, even though the pace and intensity are now much slower.  I do have to be careful of where I walk though. I find that walking by too much food can be counterproductive, which motivated me to take this "Fitness" photo.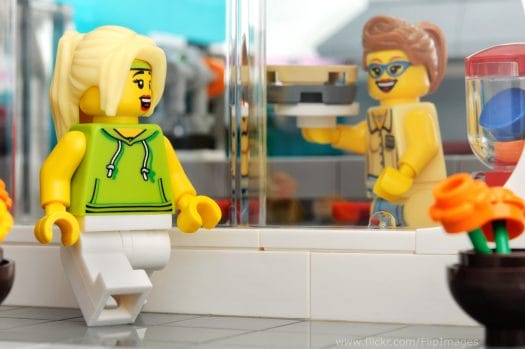 Fitness and Toy Photography
Even though I have slowed down, my minifigures have not.  I love the challenge of creating movement in a minifigure with limited range of motion.  So for me, Fitness is a continuous photo theme and my minifigures will always be exercising.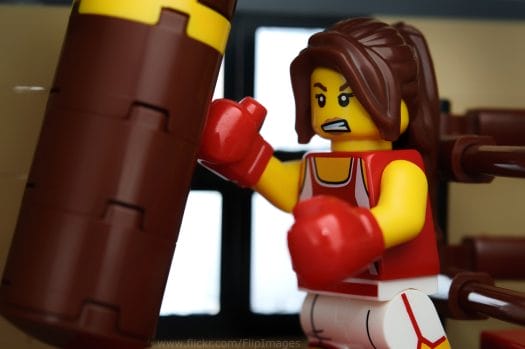 Lynn / Handstand30