To tell you the truth, it was difficult to write this blog post.
It was a struggle for me to select a word for the 12th month of the year.
[clickToTweet tweet="It is all about new beginning(s)" quote="Should it be 'conclusion', 'ending', 'finality'? " theme="style6″]
I like order and for me, every story has a beginning, a middle/development and an ending.
I don't like endings. It means that everything stops afterwards and I hate that.
When I read a book that I enjoy, I always take a break before reading the last chapter. I don't like endings.
So, the more I was writing this blog post, the more depressing it was getting.
Then, it hit me during New Year's Eve.
The end of the year is not about ending things. It's about new beginning(s).
Like a clean slate.
Forget the difficulties, the failures. They are all in the past.
Think about the new things, shape your future.
Forget the past…
But let's have a look back at this amazing year that was 2017.
It all started 12 months ago when Boris contacted me to join the blog and I started writing posts about "Reflections", "Inspirations", "Books" … 11 words that would put rhythm in our year. And, of course, this month's word, the twelfth one. Initially, I did not think I would be able to write that many articles and I surprised myself in the end.
I was also able to participate this year, to three LEGO exhibitions. Including one in Skaerbaek, Denmark which was a great opportunity to meet LEGO designers, connect with friends, other toy photographers, and MOCers.
I was also present at the LEGO House opening (What a unique event it was).
I traveled the world several times for work and I revisited far away places during holidays. I created touching stories and made some great pictures (at least, in my opinion).
Also, I attended three toy safaris worldwide and made some new friends.
All in all, this year was awesome.
Think about the future
But as I said the end of the year is not about endings, it's about beginning(s).
And 2018 has a lot to offer.
There are a lot of projects that will come to life in the months to come:
For example, three exhibitions in the next three months (including two with the SiP crew in Paris and Hamburg – More to come on this subject, soon).
The next toy photo safari in Paris that I will host this year (there is a lot of work still to come on this one).
A 52-word project on the blog.
And maybe some new beginnings in my personal and professional life. Who knows…
Will 2018 be a year of new beginnings? A year of changes?
It's too early to say but it might be. Only time will tell and I will be sure to come back here in 12 months to look at the result.
And thank you everyone
I wanted to finish this post by thanking people. Without them, I would not be here today writing these words.
First, I would like to thank you all, the readers of the blog and members of the SiP community. It's a pleasure to share my thoughts with you and I hope you enjoy them as much as I like writing them.
I would like to thank Stefan, Maelick, and Boris, my partners in this SiP adventure. I am sorry if I am a bit quiet in the back during our Hangouts and on the chat but it's in my nature ;-)
Of course, thank you to Boris who invited me into the collective. I appreciate the leap of faith after one encounter and I hope I did not disappoint.
I would like to thank Shelly, Luigi, and Chris. It was a pleasure meeting you and spending that time in Skaerbaek with you. We had such great moments together. And thank you for trusting me with the exhibition.
I will not forget my friends and family that I would like to thank for their continuous support in this experiment that is to take pictures of 3 cm plastic people on the ground.
To all of you, thank you very much and let's see what 2018 will bring us.
Julien/Ballou34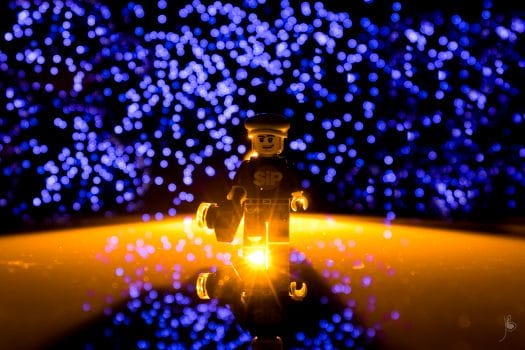 Aeronautics engineer by day, toy photographer by night.
Exploring the world with his plastic figures.