We are in the final countdown to the new year. And so what better way to start the new year with a new challenge. A challenge made up not of twelve words, but fifty-two this time.  Fifty-two words. As many words as we have weeks in twenty eighteen. You see the plan coming. One word a week. A slightly different acoustic challenge this time. Sharing one image a week with the word in mind. A challenge we kindly invite you all to join. With as many words as you want. At your own pace. Or in ours. You choose.
Words.
The words we selected for twenty eighteen are not just any words. They are special words for all of us. Words that hopefully trigger a vision. An exploration of our creative self. Words that connect with why we are here. Human values and emotions that flow through our hearts and minds into our photographic work.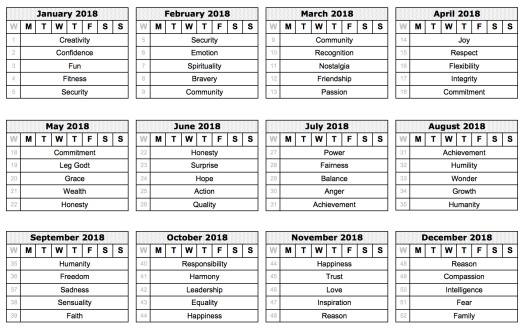 A little game.
Here is a little game you can easily play with a couple of friends to get you warmed up. They don't need to be toy photographers. These values are universal. And you can easily play it at the new year's dinner table to get the conversation going. Print out the 52 words (one page in PDF is available to download here with all 52 values, one per person) and give yourself 5 minutes to select those 5 words (values and emotions) that really mean the most to you. Not six or seven. Only five. You will see that downselecting to five may be more difficult than you think. Most people easily can shift the list down to ten, but getting it down to five is not that easy.
These five words are values that matter to you right now. They will most probably change over time. They are not absolute or final. Just lighthouses in your journey.  Now, depending on how much time you want to spend on this, you can do around the table, where everyone shares their 5 values and what they mean for them. Or you just share the 5 values with your neighbor at your left. You will see that it will trigger a more interesting conversation than talking about the weather.
Anyway…
Back to our challenge.
The challenge.
We will kick off twenty eighteen with creativity, the first word of the year. Randomly selected by the random sorting algorithm of Google spreadsheet. The four of us will select one image that connects with the word of the week. It is important here to say "select" as this is not about shooting a new image every week. This is looking at what the value means and how it connects to an image. It can be an image that you took years ago. One that sparked the creative journey you are on. Or it could be a new image, a new technique you wanted to explore to see how creative you could be. Or it could be something else… The words are there to guide and inspire you. Not to be taken literally, although that is of course also allowed. And I am sure at times, some of us will.
We will then tag the image on IG (and some other social media platforms of choice) with #sipgoes52 and #sip_wordoftheweek where wordoftheweek is that week's word. For example, for the first week, we will use #sip_creativity.
And some of us will post their image here on the blog with some words of wisdom reflection. Not everyone, every week. We still like it acoustic, just with some small tube amplifiers. And some weeks we may want to invite you to share your image, your word, your story.
So, expect a slightly higher frequency of eye candy here in our feed.
With more images to feed our inner child.
Some more changes.
While we are sharing the changes ahead, we will also deactivate the email notifications we had active for each post in twenty eighteen and replace this with our SIP monthly newsletter. A newsletter that will keep you posted on all things plastic. We will also give every month something special away to one random reader of our letter. This could be a small LEGO giveaway toy set or a signed print from one of our creatives here on the blog. So, if you are into a high-quality newsletter and want to get the chance to get a signed print or a free LEGO surprise, then this one is for you. And signing up is easy, you can do it right here:
[mc4wp_form id="13264″]
Will you join in our challenge?
Curious if you will join in the challenge.
Let us know below in the comments what you think.
Here is a PDF for you to explore.
Stuck In Plastic.
The creative collective of toy photographers.