10260, Downtown Diner
It is not every time we get a press release in the mailbox from TLG we all go, yeah, great, let's share it. You all have access to the more mainstream LEGO news outlets like TBB, The Rambling Brick or Brickset. They do a much better job of sharing with you all the great new LEGO sets being released. So we normally don't want to spam you with a rehash of the latest news and focus on our creative journey. But once in a while, we cannot control ourselves, and this is one of those times. There is a new Diner downtown, and we can't wait to go to the grand opening, put some coins in the jukebox, mingle with the citizens of LEGOville and get a milkshake or two. Oh. And while we are there, get a few creative images of this awesome building.
Pink.
The official press release from Downtown Diner tells us that this new place is two thousand four hundred and eighty pieces large, contains six minifigures, two soda dispensers, a jukebox, candy machine and a pink Cadillac (the official press release calls it a Convertible).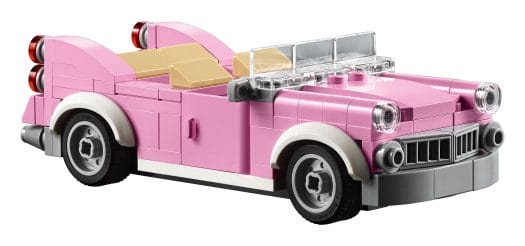 The ground level is your fifties Diner, the first floor is a gym annex boxing ring while the top floor is a full-blown recording studio. The untold stories to be recorded in Downtown Diner are limitless.
If you are curious what new elements this set contains, we kindly refer you to new elementary who will tell you all about the new flower stalks and some more.
Stories
And the LEGO team gave us already a sneak preview of all the stories they imagine to happen inside the Diner.  Here is a sneak preview and if you pay close attention you will see Rocky, Elvis and good old Anton hanging around …
We can't wait for the second of January to arrive, so we can visit the local LEGO store and grab our own Downtown Diner for a 150EUR. Downtown Diner is officially available in the LEGO store on new years day.
A good start for 2018.
Stay tuned for our creative review early in 2018.
Boris
All images provided by The LEGO Group as part of the announcement of the new Diner Downtown.