I love trains.
Maybe it is because I grew up in front of a train station. Maybe it is the promise of new adventures in charted territory. Or maybe it is some nostalgic memories of the very first steam trains.
Anyway, I love trains.
We were discussing in one of our hangouts a fun little side project of sharing our train experience around the Xmas tree (we have had a running LEGO train under our Xmas tree for a few years now) when our good friends over at LEGO must have had a similar idea and kicked off a little rebrick context.
Build your own train for the winter village, submit it to Rebrick before the end of this month, and win some fantastic prices. 
I could not resist and make my own LEGO Train based on the Ninjago City. Why be static, when the fantastic Ninjago City can be traveling around my Xmas tree these winter holidays.
Here is my submission.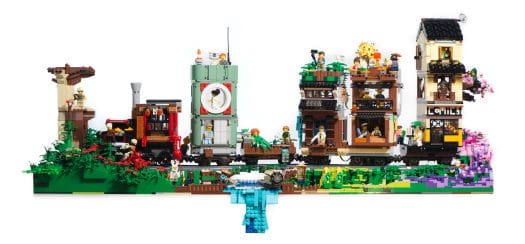 A train with a story …
Ohh.
And there is more.
Much more, but the rest of the story I will keep for under the Xmas tree.
For now, the key question is: will you join the ultimate train challenge of Rebrick or just build one for your Xmas tree.
I decided to do both.
Boris
Post Scriptum.
And yes, the train is electrified and has a build in motor so it will run under the Xmas tree all by itself.