(I´m seriously wondering how many of you can sing along with this article´s headline. Seems as if Reginald Kenneth Dwight chose a famous topic for that certain song back in the days.)
About two weeks ago, on the day of its release, I was kindly given a long awaited set from the LEGO Ideas theme, specifically the 21309 LEGO NASA Apollo Saturn V rocket. In case you didn´t know all things space are my most favourite LEGO sets. I can´t explain in words what specifically attracted me to this set. Was it the fact that it reminded me of one of the earliest sets I remember in my family, the #367 Moon Landing from 1976? Was it the size of it (1,01 m)? Was it the brand new astronaut nano figures? Or simply the fact that it´s another fan designers´ (Felix Stiessen and Valérie Roche) set?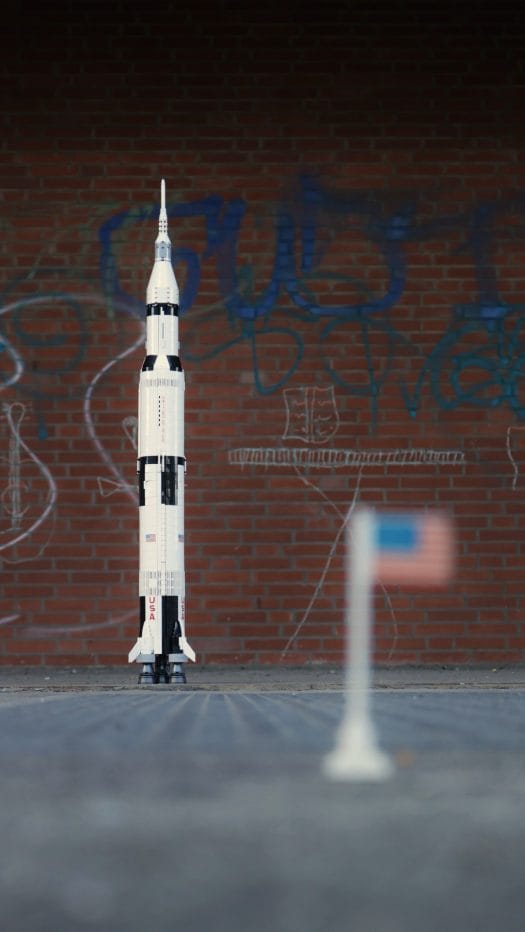 You´ve probably all read a dozen reviews about the rocket so far so I´m not going to bore you with the same details and facts like that this set contains 1969 parts (wait, what year did they land on the moon?); or that it consists of the original three single stages that can be taken apart and put back together easily; that it comes with a LunarModule (you know, the tin can that actually landed on the surface of the moon) and the control/service module that took the astronauts safely back to Earth at the end of their mission; that the building instructions are 184 pages thick…!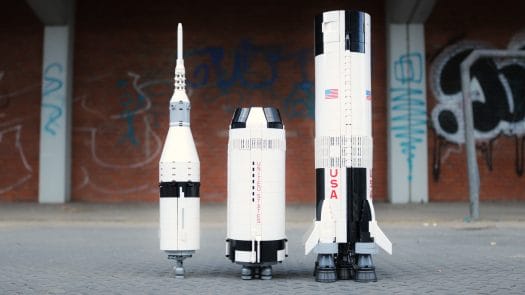 Instead I´m going to tell you just how much I like it; how much I enjoyed building it; that it definitely is a challenge to try and photograph it (I´ve got no idea exactly how many rockets NASA lost to bad weather conditions- but at least I could rebuild mine after it was literally gone with the wind…).
If you are one of those people who tried to order it from the online shop and were notified that it was temporarily out of stock only a day after its release- then don´t be angry or disappointed. Let me tell you that this thing is absolutely worth the wait! Not only is it a beautiful model. Judging from its size one might think that the rocket is not very stable and that you can´t run around your room/house/neighbourhood with the rocket in one hand pretending it is flying right into space while (you´re) making funny rocket noises- but you can (of course I had to try it)!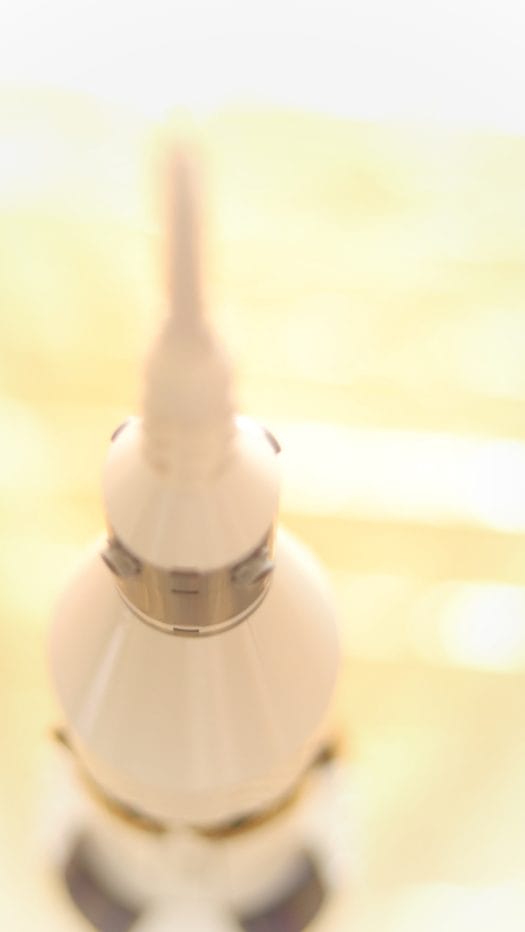 If you´re going to display it in your home office/man cave/living room then there are several ways to do so. The most impressive one is probably to keep it standing vertically (you´ll understand once you´ve finished building). Should you prefer the horizontal display solution then you´re lucky as the LEGO designers (Carl Merriam- top bloke, also designer for LEGO Boost; Austin Carlson- another top bloke who´s also heavily involved in BICKHEADZ; Michael Psiaki- probably another top bloke who unfortunately I didn´t get to meet so far) included three pedestals for just that purpose. And if all of that sounds too ordinary and not daring enough to you then you can surely try to attach some nylon strings to the body and hang the model underneath the ceiling (which I explicitly do NOT recommend from a paramedics´ point of view! At least that´s what we did with our plastic model rockets and planes back in the days, well knowing that those were a wee bit lighter..)
Although I had the chance to talk to Carl and Austin as well as other members of the LEGO Ideas team I cannot tell you how long this set will be available. But thinking back of how fast the Birds (#21301) or the Research Institute (#21110) were gone for good I´d suggest you better grab a #21309 LEGO NASA Apollo Saturn V rocket now as it´s definitely a set you don´t want to miss…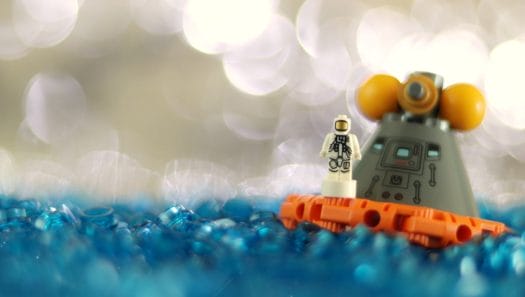 Happy space traveling- and please give my regards to Major Tom should you meet him up there in outer space.
-Stefan
A Non-Belgian living in Hamburg, Germany. Curiosity-driven and mostly to be found on tiny adventures and great journeys.