Remember our word of March?
Don't worry if you forgot.
It was Projects.
Projects tend to have a deadline, and I talked about that one as well, especially since I missed that deadline. Now deadlines are nothing more as a line in the sand, a date to work to. Critical. But not the most important. What is even more important for a project is the actual deliverable.
The finished product.
The creative outcome.
The final image.
Even if you missed a deadline, pushing forward to get to that final outcome can be great fun and achieving the deliverable is normally a great reward in itself even if the deadline has long time passed.
And here we are, in the beginning of May.
Not wrapping up one word, but actually, two words before we get the new one out next week. I still have a story to publish on Projects and Maelick, Stefan and myself have to get our travel submission completed.
And then we have our new word as well.
Ahh, the hectic rush of good old deadlines.
So let me share my PS story with you: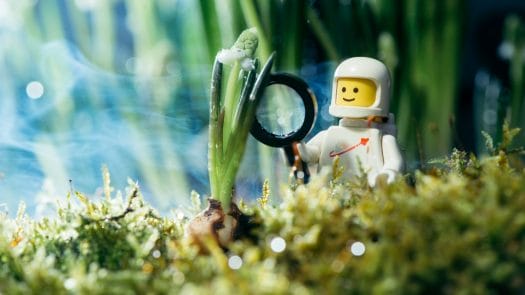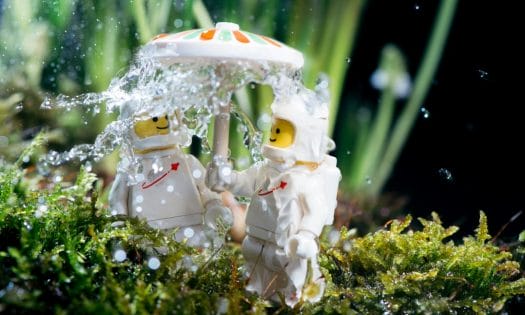 A simple story of three.
I knew when I posted the word of March, and the corresponding challenge that I wanted to do something with Mr. Gill and Mr. Gilles (the actors).
I have something with "twins" and I knew I wanted to combine some of my previous themes into this little project and wanted to shoot the raining umbrella again. A long-running project without a real deadline. More like a theme. And so I knew my final image. Given that winter was leaving and spring was upon us (the spring equinox was on March 20th), fresh green colors and spring feelings pushed me in this little story where two eternal space travelers land on a green planet after being in their white cold spaceship throughout the cold winter and enjoy the fresh greenery. Lord Escargot gave them the Umbrella and discloses they are on Planet Spring (the added challenge I had no clue on how to include it).
So mission completed.
Next.
B.
PS. I just noted in Lightroom that I actually took 379 images to get these 3 published. But that is a different post.