When Boris asked us to write, this month, an article about numbers, I was a bit puzzled.
[clickToTweet tweet="'You don't have to be a mathematician to have a feel for numbers.' – John Forbes Nash Jr. " quote="'You don't have to be a mathematician to have a feel for numbers.' – John Forbes Nash Jr."]
There are so many numbers I could talk about, like the 3,098 Lego minifigures that I own (according to Brickset), the four spacemen that I use in my exploration series, the number 42 because of "H2G2" (of course), my #100_Shadows series or even the number 142,857 a number that fascinates me because of its mathematical properties. But none of those numbers are special or personal enough.
So, I decided to tell you a little story about me and my number (2,786).
[clickToTweet tweet=""Numbers have life: they are not just symbols on paper." – Shakuntala devi" quote=""Numbers have life: they are not just symbols on paper." – Shakuntala Devi"]
A year ago, I had the opportunity to spend some time at sea on a vessel. Not the small boats that are used for leisure, neither the big cruise ship. It was a work vessel and I was onboard for work. That was a very unique experience that I really enjoyed.
The boat was  equipped with a ROV (Remotely Operated Vehicle), a surface-controlled robot which can dive down to work underwater. It is used in the industry mainly to monitor underwater installation such as pipelines…
Being a lego photographer, I had some minifigures with me (Of course!) Three weeks at sea, in a unique environment, it brings so many possibilities for pictures (You would all have done the same… ;-) ).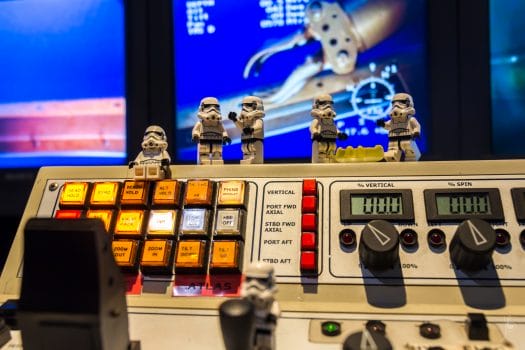 On board and after a couple of days of travel, we were far away from any land. I had this big "yellow submarine" with me and maybe it was because of the thought of the beautiful underwater pictures of Avanaut, I asked the person in charge: "Why not put a Lego on it and dive down?".
"Of course, no problem. Let's do this!". I was a bit surprised by the quick answer and the enthusiasm. The onboard crew accepted immediately to have a minifigure attached to the ROV and bring it down to the seabed during one of the dives.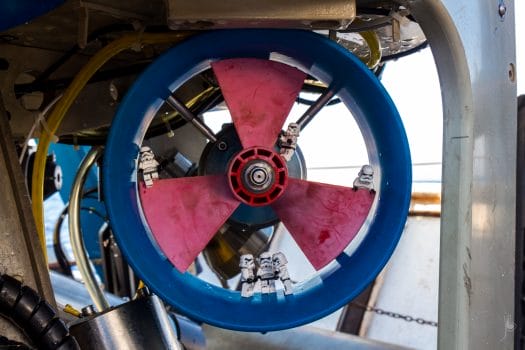 I learned quickly that it was not their first time bringing stuff to the bottom of the ocean for fun. Their favorite one is watches that they fill up with a special oil so they can resist the pressure and they bring them down to 5,000 m below sea level. After the dive, they continue to work perfectly for years.
So, a Lego minifigure is not a particularly difficult task.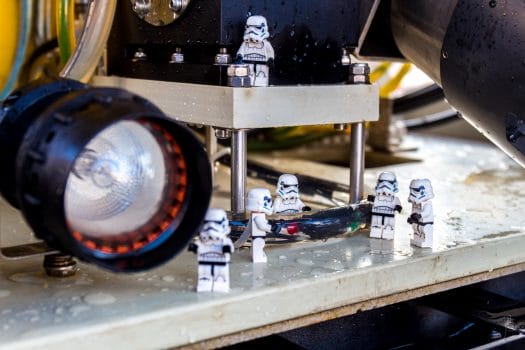 But which one should I choose?
I hesitated a bit between a stormtrooper, a scuba diver, a classic spaceman… And I found the perfect one: the diver. He definitely has to go in full diving suit to the bottom of the ocean. And Yes, I had quite a few minifigures with a water/ocean/dive vibe with me, especially for this trip.
All in line to dive in
To attach the minifigure to the robot, they drilled a hole in the legs, tie wrapped it to one of the arms of the robot and there it was, ready to dive. From the control room, we could access several cameras to see what was going on underwater.
The ROV started to dive. The minifigure resisted the pressure and there it was, looking at us during the dive with a smile on his face.
After around 3,000 m of descent, the ROV was stopped and lowered down to the seabed. At some point during the descent, the diver fell down and we found him looking down at the floor as if he knew he was observing something unique.
2,786 m was recorded on one of the altimeters (which equals 1.73 miles or 9,140 feet).
I have indeed sent a Lego minifigures almost 3,000 m below sea level. Isn't it incredible?!
Now, I keep the minifigure with me at home. It stays in a plastic container with the date of the dive and the depth. I am particularly proud of this little diver.
Even though I asked them, the Lego group never answered me if it was the deepest underwater dive for a Lego minifigure. But I am pretty sure it is.
That's why 2,786 has a particular meaning for me.
Julien / Ballou34
Group picture with the underwater star
What about you?
Do you hold some original record?
What is the strangest place you brought a Lego minifigure with you?
Aeronautics engineer by day, toy photographer by night.
Exploring the world with his plastic figures.