Marcel is a Parisian.
He is a lover of good food, good wine and good art. He is a connoisseur of some sort. And, being 4 brick tall, he likes to wander around his own city: Paris, the city of lights.
Always carrying a baguette, he walks around with his small dog, a French Bulldog (of course). He wears a marinière (a striped shirt), a beret on his head, and a small red scarf around his neck.
Marcel likes his city. He often starts his day at a café. His favourite one is "Le café des 2 moulins". That's where the movie Amélie (or Le Fabuleux destin d'Amélie Poulain, in French) was shot. A charming place. 
After a coffee and a croissant, he stopped by a "boulangerie" (bakery) to buy a baguette for the day. Leaving Montmartre (that's where he lives), he passed by the Moulin Rouge and jumped inside a "Metro" (the subway).
His walk around Paris brought him to the Pyramide du Louvre, the entrance to one of the most beautiful museum in the world, famous for "La Joconde", Mona Lisa portrait by Leonardo Da Vinci.
From there, Marcel walked along the avenue des Champs-Elysées to stop at the Arc de Triomphe, a monument located in the middle of one of the busiest roundabout in Paris. He was almost run over by cyclist.
He then decided to go South to say hello to the Eiffel Tower, constructed for the 1889 World's fair and which was supposed to be destroyed. It has now become the symbol of Paris.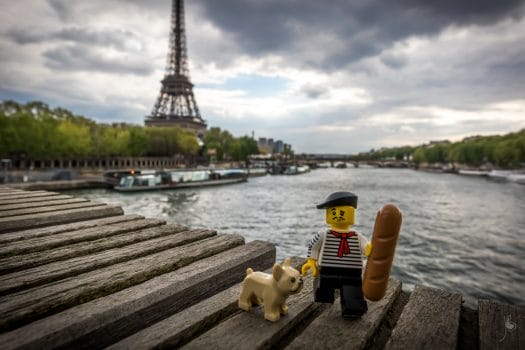 There, Marcel took a bike and continued his journey in the capital, along the "Berges de Seine" (the banks).
He stumbled upon a sculpture that made him think he was in another country but no, he was still in Paris.
At some point, he arrived at the Cathedral, Notre Dame de Paris where he stopped to get his portrait done by an artist. And he bought another baguette as he ate the first one during his lunch break.
Marcel then left his bike to finish on foot at the Palais Royal, a nice palace downtown Paris where people go to enjoy the gardens. There you can find an art installation called "Colonnes de Buren" made of black and white striped cylinders. Marcel met a sad mime. It's not very easy to be a mime in those days.
His journey brought him back to Montmartre. He stopped by the Sacré coeur, a basilica and decided to sit for a while to enjoy the view. Marcel loves his city.
Marcel is a Parisian that loves Paris.
__________________________
Marcel is a character that I had the opportunity to review as part of the Lego collectible minifigures series 17.
Why did I choose him?
The answer if pretty simple. Like me, he is French. Well, at least I am French and he is how people see the French. He is a caricature, a stereotype, a cliché…
Personally, I don't really see myself in him. Ok, I wear a beret, but a white one (please Lego, make a white beret for me), I eat baguette but… I don't own a French bulldog, and I don't have a moustache.
You see, I am not really like him ;-)
Marcel is a great character. To be honest, if I was asked to make a stereotypical drawing of a French, or more precisely a Parisian, that's how I would have done it.
Merci Lego for this awesome minifigure.
Julien / Ballou34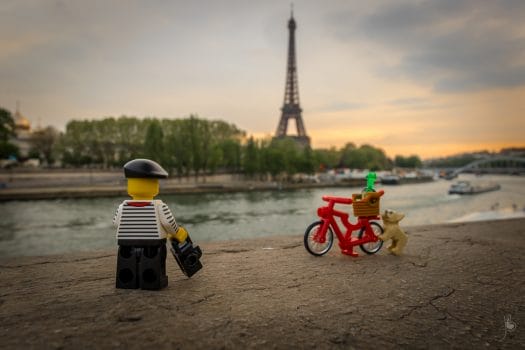 PS: This post is a tribute to the city of lights and all it represents. A tribute to freedom, democracy and an open culture that Paris is known for.
The city of lights, the city of love …
Aeronautics engineer by day, toy photographer by night.
Exploring the world with his plastic figures.