The Process
When I read about this month's Project, I was first excited and ideas started to pop into my head as I was reading Boris' blog post. Then as I was going through the list of constraints I started to get afraid I couldn't make it. There were two major obstacles for this project to be a success: a limited number of pictures and an end.
Most of my projects, which I usually simply call challenges or photo series,  have rarely an end. They are ongoing series that I put on hold when I lack ideas until I find some inspiration again. After all, the goal of wandering is not to get to a final destination.
I also had my own constraints to add. Although I have no idea where Boris is leading us with these monthly words, I want to give some consistency to the photos I'm going to make. Among my sticky notes of the two previous months, there was a common thread: music. So I decided it needed to be part of my story. Then I also added some technical constraints for even more consistency: use the same perspective (and thus lens) and the same aspect ratio.
The story started to form in my mind but I was missing a few props and more important: a character. So the first step of the project was shopping online for plastic. And then waiting… That meant time to think about how to frame my three photos. As time was passing I realized I wouldn't get my missing characters before going to London, so the photos would have to be taken there if I wanted to be on time.
I started to imagine a big show in the big city for my newly formed music band. But for that I would need to order online more plastic goodness that would never arrive before leaving for the big city. So I decided that the band would rather start small. My goal was set: while having a Merry-Go-Round in London, I would try to find a nice place for my plastic friends to have fun and jam together.
After 18 kilometers in the big city, I was pretty sure I wasn't gonna find that perfect spot: a dirty wall that would like an old basement. But then on Sunday morning I managed to find it in the most unexpected place: a big and nice art museum. And Photo 3 was done. On the same day I managed to get Photo 1 by fighting against tiredness.
But photo 2 was still missing because of some last minute changes. Indeed Spooky Girl and Gollum were not supposed to be part of the band. Someone else was supposed to be both the drummer and singer. But when setting up my little stage, I realized Gollum and Spooky Girl would fit better the project. They are among my favorite LEGO figures and I've too often struggled expanding their story. But when I came back home in the North, I managed to get the missing piece of the story.
The Story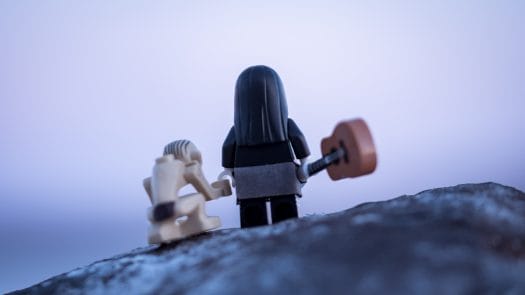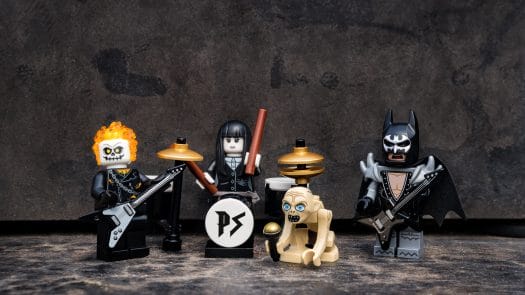 Is the story really finished?
Probably not… There are many holes left.
What does "PS" stand for?
And how did those characters ended up together in this unlikely band?
Will they ever become famous?
Will I ever fill those holes intentionally left in the story?
Maybe… Or maybe not.
Only time will tell.
Sharing the Adventures in The North of my Plastic Friends.