Why do we do projects?
Why do we start photographic projects?
Why do we launch ourselves in the daunting task of taking pictures on a regular basis or with particular constraints?
It's intimidating, stressful and exhausting.
So why do we do it?
[clickToTweet tweet="'Every project has challenges, and every project has its rewards.' – Stephen Schwartz" quote="'Every project has challenges, and every project has its rewards.' – Stephen Schwartz"]
When you tackle a project, you know that it will not be easy.
You will suffer but in the end, you will learn something from it.
Projects are a great way to stay motivated and focused.
At first, when I launched myself into legography, I took a couple of pictures from time to time. But I knew that if I did not impose myself some kind of project, goal or challenge, I would stop taking pictures relatively quickly.
So, I set the rule to post a picture every day. It was a success last year and, until now, another success this year (knock on wood).
I have a lot of respect and admiration towards people doing 365 projects and taking pictures every day. I cannot do a project of that kind because of my work and mainly because I am lazy… That's why I have given me the liberty of posting a picture taken in advance. But even that is not as easy as you may think. For example, during less creative periods, I go through my stock pretty fast and the stress starts to set. That's often with this added stress that I find some of my best ideas.I like to work under pressure (the benefits of being lazy?).
With that project, I became addicted to the thrill of clicking on the upload button every morning, sending to the world a new creation, not knowing if people will like it or not.
The feedback and appreciation I get from you all are worth it. Thanks to that project, I have touched a lot of people (thank you very much for your continuous support), I have discovered new friendships, improved my photographic techniques, grown as a human, …
Another project that I am still tackling is my 100_shadows project. I talked about it in my "Why?" article. I am taking pictures of silhouettes of Lego showing that they are easily recognizable even though Lego minifigures are still plastic toys. But I won't go into details here.
Projects are a great way to challenge yourself.
You can push yourself beyond your limits and in the end, you know that whatever the outcome you'll learn something on the way
That's why when I was offered the opportunity to write for the blog on a regular basis, not knowing what I would say, I immediately answered yes.
This is a great project. I am not a writer initially and English is not my mother tongue…
Already 4 articles this year and I have learned a lot.
For example, I have learned about me and my creative process. I want those articles to be very personal so I dig deep to find answers to simple questions about Reflections, Inspirations or Projects. And every month, I challenge myself to provide you with interesting and creative pictures.
Each time I try new stuff, new setups, new techniques to give you something special. I probably would not have done those pictures if it was not for this blog.
Talking about pictures, this month we were also challenged with creating Photographic Stories. The challenge was to tell a story in three pictures and one of the added constraints was to include "PS" somewhere in them.
At first, when I looked at the rules, like every month with the new word, the first feeling I got was Fear. The fear that I will not be able to write an article on the subject, the fear that I will not produce " good enough" pictures.
Then I start to think about the word and fear is replaced with Excitement. After that, for a couple of days, I am fueled with ideas about this new word. I can't stop thinking about subjects to write about or finding Inspirations for new pictures. I love my morning commute the next day when I start putting words on a blank page. Text is flowing quickly and the trip is always too short to finish the article… so I come back to it in the evening and so on for some days until publication.
But let's come back to the Photo Story.
I have always wanted to do a follow-up to one of my favorite picture of 2016, my Panda love picture. I wanted to write a Panda Story (PS). Early on after making the initial picture, I had the idea for several new vignettes but I never really wanted to make them. Maybe because I loved those characters too much and I knew how the story would end. I was afraid to loose them. (You'll see, the end is Pretty Sad (PS)) But with the magic of photography and imagination, they should come back in the future in other Panda Stories.
So, for this project, my goal was to use the same characters (the pandas) in a black and white picture and keep the one colored accessory from the initial picture (the flowers).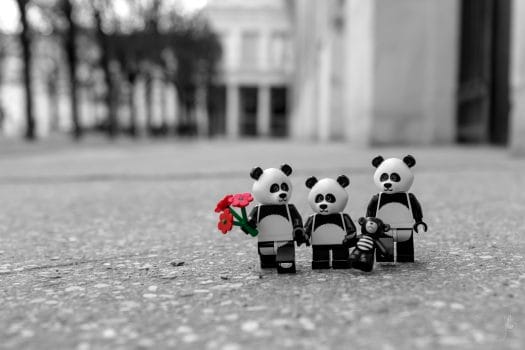 Now that their story is over, I need to bring them back in other situations to fill the gaps of their lives.
Because now I am filled with Panda Sadness…
Projects are fun.
It's always rewarding to reach a goal that you've set yourself. And even if you fail, don't cry. Look back to what did not work and learn from it. You will be better the next time.
[clickToTweet tweet="'Things do not happen. Things are made to happen.' – John F. Kennedy" quote="'Things do not happen. Things are made to happen.' – John F. Kennedy"]
_____
What project did you tackle this year?
Did you try this month StuckInPlastic Photo project yourself ?
Julien / @Ballou34
Aeronautics engineer by day, toy photographer by night.
Exploring the world with his plastic figures.