I spent a while pondering whether I should go or not, though it was very tempting from the beginning. I had only been recently converted to legography and I had enjoyed the stuckinplastic blog for some time. I eventually made my decision to join last minute, as always, and sort of crashed the party.
Before that, Shelly had inadvertently triggered a chain of unexpected events when she published Going Home in Brick Culture. I remember telling myself "whaouh you can actually do that with Lego!" I knew then I had to try do something, I could reconcile my (sometimes non reciprocal) love of bricks and minifigs with my quest of an artistic medium through which I could crystallise my favourite oddities, expressing and creating something fun – if not ironic or provocative -, quirky, imaginative and, when possible, inspirational. The Benny and its Divers Klub "series" emerged rather randomly in Hamburg and might be made of this quixotic fabric.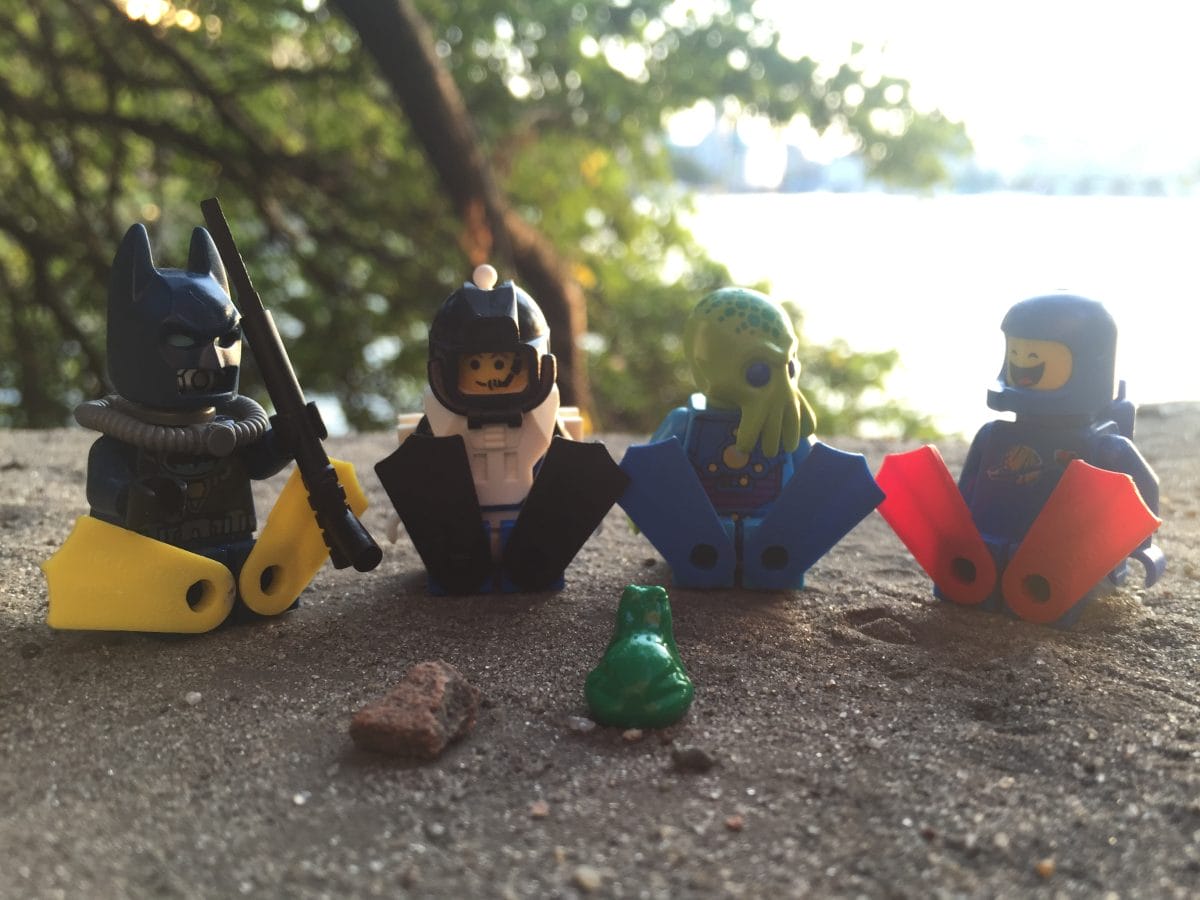 Notwithstanding my late incoming, not even mentioning I was completely out of my depth and comfort zone (I am going to meet people I don't know who take pictures of toys made of ABS plastic), I arrived just with my iPhone, no followers in any sort of artistic / social media and a very basic set of photographic skills (read: none). I had to fight my inherent self-doubt and duality when it comes to legography: regardless of how much I enjoy it, no one I know does that, lego are for kids, there are better/more important things to do, I would be despised by many people I know or work with. And in spite of the usual set of existential questions (am I going to find them weird? Or are they going to find me weird? Both? Am I going to find us all collectively weird?), curiosity, excitement and confidence (fortunately) prevailed.
Stefan luckily was a cheerful and unassuming host and welcomed me warmly inside the tent (even gave us a Fantasia minifig!). Ballou34 wondered from which era I came from not knowing how to tag in Instagram (but nonetheless took the time to explain). The same applied to my late discovery of the use of reflectors, scene settings, ancillary lighting, paste-to-fix any recalcitrant figures in improbable positions.
Beside our joyful gatherings around urban objects and places, another world of interesting scenes was taking place (worth a small video clip): the reactions of the outside world (locals, tourists, crowds, youngsters, elderlies) and the interactions with us. Conversely I enjoyed the feeling of being part of a group of (nice) people who shared some of my enjoyment in life: a place, some Lego, a camera – infinite possibilities. I felt empowered, unashamed in my quirky hobby.
I remember this Indian fellow visiting Hamburg asking me if my kashyyyk troopers had an in-built wifi chip or whether I was just and simply stuck in plastic. I was indeed.
I still have no clue how a DSLR camera or Lightroom work but I believe I came back with something as precious (at least to me): inspiration (with a smile). Ballou34 mentioned in his post of last month the fellowship of the brick and it is exactly how I felt. I always like Sip calling itself an art collective. I would stop taking pictures to look around at the rest of the group, smile and tell myself aren't they amazing these guys laying on the ground trying to make the best of their ideas and shots. Lego are such a fun pretext to plunge into minutes, hours or days of artistic self-exploring, discovery, – and within a toy safari – sharing (especially around a fresh beer after a long day).
So dear brick fellows from Hamburg and the rest of the world thank you for expanding my minuscule but growing experience of life and hope to see you very soon.
Yours Faithfully
jeandesirekatanga
IG, FB, Flickr: jeandesirekatanga