This week as part of my G+ Mentorship I've been thinking about beauty, the concept of beauty, what is beautiful, looking for beauty in unexpected places and of course thinking about how this all somehow relates to the photography of LEGO mini figures.
Our prompts this week were:
What do you love to see?
Where do your eyes linger?
Where do you see beauty?
In an age when realism reigns in toy photography – photos that look like they could be movie stills, photos where in camera action is the norm – the simple beauty of the LEGO mini figure is often overlooked. In our quest to acquire the hottest, newest toy, master an amazing technique, post our latest  photo to some social media site, it's easy to forget to slow down and enjoy the photographic moment.
"Everything has beauty, but not everyone sees it." –  Confucius
There are many reasons I enjoy taking photos of LEGO, the story telling, the challenge of macro photography, the whimsical nature of the toys and of course the fellowship of the toy photography community. But I would be remiss if I didn't mention the beauty of the mini figure. Many of my favorite mini figures are incredibly detailed and have a beauty about them I find hard to put into words. I want to capture that beauty with my camera and lens.
A large part of capturing the beauty of the mini figure is also capturing the beauty of light. I find I'm often 'chasing light'.  I'm not looking for a particular scene, I'm looking for how the light effects the environment.
Recently I was up in the woods enjoying a late summer afternoon  with my family on a hike / toy photography adventure. On the way back to the car my son and I spotted a scree of rocks and some sun poking through the trees beckoning us. We scampered off the trail and up the rocks and discovered a scene that was incredible: moss covered rocks, trees with leaves just beginning to turn golden, sun rays at a low angle bathing the whole scene in a magical glow. There was no camera I had on me that could capture the incredible beauty that we discovered, but I did capture this image of Groot that begins to express how I felt at that moment in time.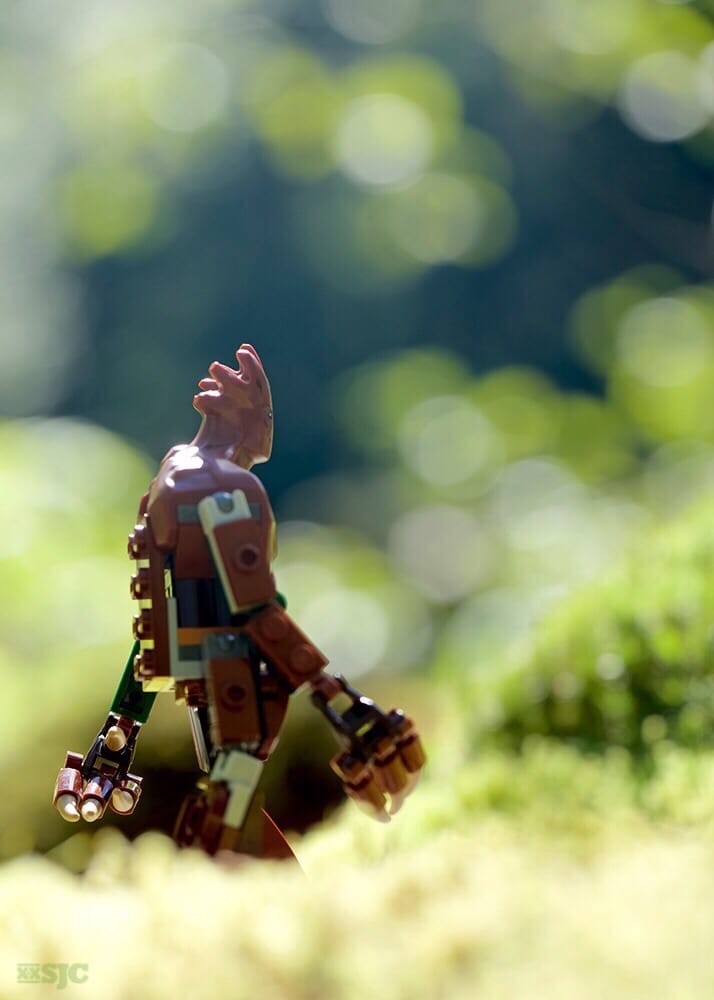 It may seem strange that a grown women is playing with and photographing little bits of plastic, but honestly, I find many of the collectible mini figures to be incredibly beautiful.  The first mini figure to capture my imagination was the series #4 Kimono Girl. The delicate flower pattern of her kimono, the cherry blossoms in her hair, the red of her lips…all were unlike anything I'd seen before or had even associated with the LEGO brand. Were where the yellow head and hands I was familiar with? The orange vest of the city worker? Or the broken helmet of the Classic Space man? When I found the Samurai Warrior soon after I purchased the Kimono Girl, I was officially hooked.
When I'm out taking photos, I'm consciously looking for a beauty that will compliment or contrast whatever figures I have with me. These moments of beauty can be as simple as a shaft of light illuminating a tree, a bit of moss in an etherial shade of green, an unusually patterned rock or a glint of sunlight on a shard of glass. Beauty can be found in the most unexpected places; like this photo shot on my porch in a small pond I set up. I was surprised to find some beautiful pink flowers still in bloom in my backyard and I used them as my backdrop for this quick photo.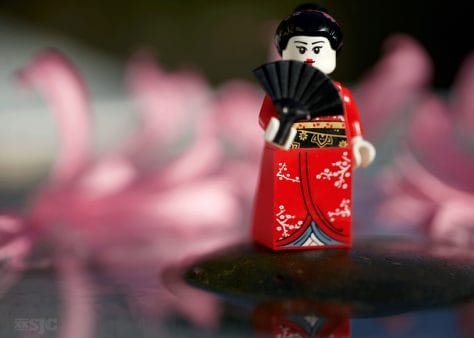 If you've been following my photography for any length of time you probably know I have a fascination with skeletons. I have 'upgraded' the traditional skeleton with a more realistic head I found at crazybricks.com. I enjoy photographing this macabre little figure, he reminds me that beauty is every where and that my time on this earth is finite.
"It is not death that a man should fear, but he should fear never beginning to live." –  Marcus Aurelius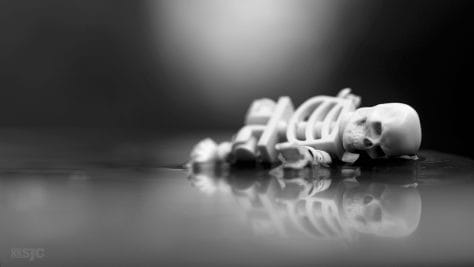 There is a simplicity and beauty in this figure. He is a constant in my toy box and I look forward to finding  new ways to express the beauty that is so often present in death, just as it is in life.
Long after this mentorship has concluded I'm sure I'll still be looking for beauty through the lens of toy photography. I enjoy this little world I stumbled up and the creative community of like minded geeks that has welcomed me. I'm continuously amazed at the beauty that is ever-present when you look at the world from the view point of small plastic figures that are only 4 cm tall.
I want to encourage you to take a moment and enjoy the beauty of your own plastic muses. Take a moment to slow down and appreciate all that you've created and while you're at it celebrate the beauty that is so often found in toy photography.
~ Shelly
How would you answer the prompts that were given to me for this weeks challenge? Where do you see beauty?