Wide-angle lenses don't get much love from macro photographers, and that's a shame. There is precious little information in general photography articles about different macro lenses. If you want to take close-ups, you'll buy the equivalent of a 100mm macro lens, because that's the popular macro focal length for most systems.
The stereotypical macro photographer buys a macro lens to take super-close-ups of insects and plant innards, so that's what the lens manufacturers gear their products towards. Coincidentally, a 100mm lens is a very good focal length for this sort of photography. 100mm is long enough that there is some distance between the end of your lens and the subject (so you don't block all the light!), but close enough that you don't need insane shutter speeds to counter the wobble.
Of course, we're not your typical macro photographers. Toy photographers don't go in for full magnification, plastic is just not that interesting close up. That gives us some options!
If you look hard enough you will find wide-angle macro lenses (and here I'd count a wide macro as anything below 40mm on a full-frame system). They're not that popular, which is great, because they're relatively cheap!
They behave as you'd expect a wide-angle lens to behave. More depth-of-field, wider view angle, more perspective. It seems silly now, but when I was starting out I assumed there was something magical about macro lenses and the way they behaved. I did notice that my shots lacked perspective, but thought that's just what macro lenses did. I knew about telephoto lenses compressing perspective, but for some reason didn't link that with what I was seeing from my 105mm macro lens. After all, telephoto lenses are for taking photos of things far away, completely different to macro photography!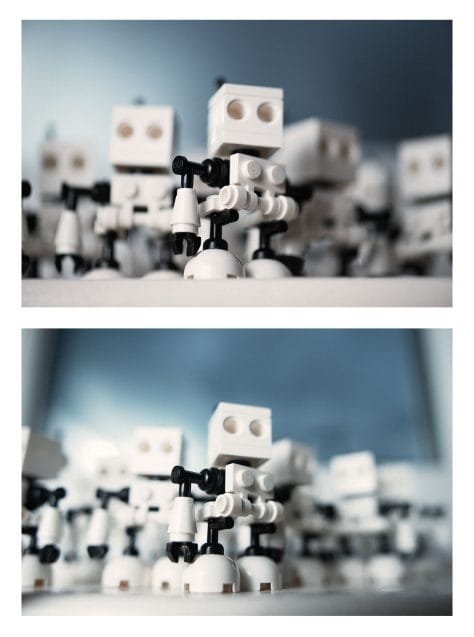 The photos above show the difference between my longest and shortest macro lenses. I used to love the look of the 105mm, but the wider angle is now my favourite. 24mm is about the limit you can go without everything getting a bit distorted. If you need wider than that, you'll be wanting to investigate panoramic photography.
A small caveat for mobile phone toy photographers: you're already photographing in wide-angle. Most phone cameras are the equivalent of a 35mm almost-macro lenses. I've spent a lot of time experimenting with different focal lengths and have ended up with a DSLR system that takes photos that look about the same as the ones from my phone. There's probably a lesson in there somewhere.
Anyway, what all this means is that we get to play around with odd lenses that no-one else wants. My current favourite is 35mm, you get a lot of background and a lot of depth of field. I have an ancient 28mm macro on the way that cost me a whole £35. You can never have too many macro lenses (I have too many macro lenses).
-Mike