I love the LEGO collectible series and I think this latest group, series #15, is a winner. I'll confess, I haven't felt that way about several of the more recent series. But #15 seems to capture the fun and whimsy of the earliest collectable series.
There are so many great characters I have difficulty choosing my favorite. So far the Fawn is in the lead with the Ballerina and the Flying Warrior battling for second. Wait! Who am I kidding? The Shark Suit Guy is awesome and the Clumsy Guy with his crutches certainly present some interesting possibilities. Hold up! The Astronaut will make an awesome addition to my space themed photos. Who can't use another astronaut to photograph?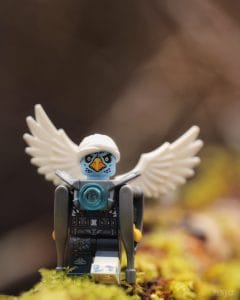 As you can see I have no shortage of favorites.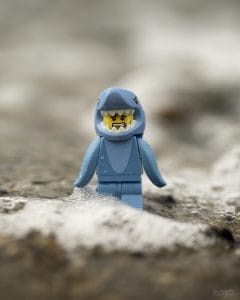 The Tribal Girl is another great addition to my collection. I have always been attracted to the native american figures and love creating photographs with them. Since I have a variety of native americans, maybe its time to work on a dedicated series. Oh the possibilities!
I'm also thrilled we have new accessories like a pig and a skunk to play with. I had no idea I was in such desperate need of a skunk to photography, but I was! Speaking of accessories, the Wrestling Champion and the Jewel Thief both have fun hair. Even more possibilities!
I know there are many LEGO mini figures that inspire toy photographers. Great themes for storytelling include Ninjago, Star Wars, Classic Space and of course Chima (RIP). But the collectible mini figures have a special place in my heart since they are what originally brought me into the LEGO universe. I will never forget my very first mini figures purchased. They were the Samurai from series #3 and the Geisha Girl from series #4. These characters will always hold a special place in my heart. But then, all the collectable mini figures do.
Thank you LEGO for presenting such a marvelous set of mini figures in series #15. I realize these little blind bags aren't created simply for the LEGO toy photography community.  But they sure do have a way of inspiring some wonderfully creative photographs.
~ Shelly
Have you picked up any of the Series #15 mini figures? If so, which one(s) are your favorites and why?
Do you remember your very first collectible mini figure? If so, which character was it?