Why do I do what I do?
I just want to thank Shelly for inviting me to contribute to this blog to do a piece on how and why I got involved in toy photography. I feel a little bit like an imposter writing this because I haven't been doing it for that long. However, in that short time, I've had my eyes well and truly opened to the exciting world of 'Legography'.
Before I get into it let me just apologies for my awful Instagram name. When I first setup my IG account most of the handles I tried were already taken. So, like most, I got frustrated and went quite literal. I have a beard on my face and I'm a towering 6′ 8" – hence @beardy_giant – I had no idea my account would eventually turn into a Lego photography account and now I'm kinda stuck with it!
A bit of background on me… I'm a full-time graphic designer by trade and I've always enjoyed doing creative things. My job mainly involves putting designs together on an iMac and in the time I've been working, over 12 years, I've art directed photo shoots and retouched/manipulated countless numbers of images on a daily basis. So I know what goes into making a good image – I've just never really been that good at taking them myself and it's something I'm now trying to improve in my spare time.
So how does this end up with me taking pictures of lego? Well, a couple of years ago I spotted a 30th anniversary Ghostbusters Lego set in a shop. This transported me right back to my childhood, I absolutely adored the film (and still do) and lego was always my toy of choice. Unfortunately, over the years, I conformed to being an adult and eventually got rid of all my Lego and any connection to it. But, seeing this set in the window awoke my inner child. I had to buy it for old times sake!
I got a bit of a funny look from the wife when I bought a Lego set home one evening and proceeded to clear a space on the lounge floor to do my first build in over 16 years. It was an absolute blast but once I'd built it, that was it… finished – had I been 10 years old I would have played with it for hours but I was a 30 year old man and the desire to play with toys was long gone.
My new Lego creation sat in the corner gathering dust. It wasn't long before I wanted the buzz of building a set from scratch again so I bought another set (the VW camper van) and slowly but surely it became an addiction, like some sort of plastic crack – I bought more and more! I started taking the odd photo of my builds using my iPhone and posted them on my Facebook and although the pictures were nothing special I enjoyed taking them, exploring different angles and crops. However, I couldn't help but feel a bit childish. This was probably because I had been conditioned to believe Lego and toys are purely for kids.
Not long after I got myself a Lego 'serious play' starter kit so that I could build my own creations, thinking that I wouldn't feel as childish because this was aimed at adults. Unfortunately I didn't fully understand that this kit was only really intended for team building exercises. Nevertheless, I constructed my own creations from scratch using the limited supply of bricks and began experimenting with the photography aspect some more, especially posing the two minifigures that came with the set. I began posting the pics to my Instagram account, which until now had been mainly used for the odd holiday snap and bit of graphic design work. I noticed they were getting more likes than any of my other stuff. So I started looking at the peoples' accounts who'd liked my photos, and seeing who they followed, and that's when I opened Pandora's box!
I had stumbled upon a massive Lego community on Instagram I never knew existed. This was mainly due to my lack of knowledge of Instagram and how it worked. I was absolutely awestruck the creations of people such as @zenith_ardor , @east_mountain and @avanaut to name just a few. My crappy pictures now paled into insignificance (yes, they're still on my account for all to see). These guys were showing Lego in a whole new light and I was totally inspired by what was possible.
Much like in my day job, if I see something that's really good I aspire to be that good myself. I knew my photography wasn't up to much and I wanted to improve. I started to employ my photoshop skills for adding effects and soon realised I could mask the fact my photography skills weren't brilliant. I also acquired my first ever dslr camera in a bid to up my game.
I love film and I wanted to recreate some of my favourite films in Lego so that's what I did. I was amazed by how versatile the little minifigures were. I much preferred shooting the minifigures as opposed to objects like Lego vehicles because I felt they could create more of an emotional connection. Careful posing of said figures along with experimentation with angles and lighting can easily create such different moods/atmospheres and the minifigures seem to have so much life of their own when captured correctly.
It's been a great past few months – I've discovered a new favourite hobby and for me, photographing Lego is pure escapism, I get lost in it, I love thinking up images/themes to create in my head then figuring out a way I can use the versatility of Lego to bring those visions to life. As an added bonus I'm also improving my photography skills and knowledge in my quest to get better. I won't dress it up as anything else, I do it purely out of enjoyment. The only downside is that my wallet is getting lighter!
Well I hope that adequately answers the 'why' and 'how' I got involved in toy photography – sorry for rambling on, I'm not the best at writing! Lastly, I'd just like to use this opportunity to say how fantastic the Lego community is – there are so many helpful, friendly people out there and it's a pleasure to have become a part of it :-)
Alex aka beardy_giant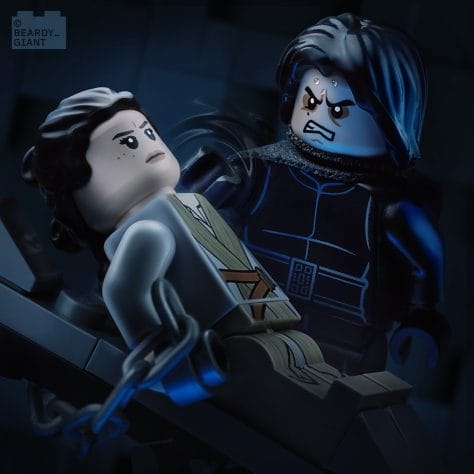 Professional Graphic Designer by day.
Amateur Lego photographer by night.