We like to throw around the idea that we're "telling stories" with our toy photographs, at least that's what I've been telling people when they ask why I take photographs. However, analysing that statement critically, it doesn't really make sense.
What I'm doing with my photographs is allowing the viewer to conjure up a backstory from the elements I've added to the scene and the emotions I've tried to suggest. This is obviously incredibly subjective and likely to be different for each viewer. I'm trying to imply a story, but this is quite different to actually telling a story. A story needs a start, a middle, and an end, and with a static medium like photography, that's rather difficult to show.
The very existence of narrative photography is still in question, and searches for examples tend to lead to series' of photographs rather than an individual image. So if I'm not partaking in narrative photography with my photos, what am I doing, exactly?
Most of the time toy photography would technically fall into the "Still Life" category, but it's obviously much more than that. I strive to create scenes, either emotional or action-packed, that feel like they capture a slice of time from a living world. Photographing constructed scenes is not particularly common outside of toy photography, it seems.
Having done a bit of reading around the subject of artistic genres there are a couple that come close: "genre art", which is normally reserved for paintings of everyday scenes, and "tableau" which is probably the closest to what we toy photographer tend to do. Cindy Sherman's "untitled film stills" from the late 70s are the most famous example I can find of this genre.
I like the term "vignette" to describe small constructed scenes (which is almost impossible to Google when looking for photographic examples due to the lens effect that shares the name). I've seen it used in the LEGO community for a small self-contained scene, and it seems to suit the type of photography I do.
Creating "emotive vignettes" in LEGO is what I do. It doesn't quite sound as romantic as "storytelling", but it's more descriptive, and correct, for me.
I feel there's probably quite a lot more to be said about toy photography as a genre, and if you can tell a story in a single image. Feel free to contribute to the discussion in the comments. :)
There a also quite a few previous Stuck in Plastic posts on storytelling, for example:
The importance of stories – Shelly
Everybody has a story – Captain Kaos
Style, Influence and Storytelling – Chris McVeigh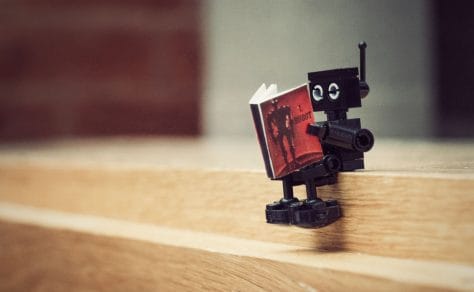 – Mike