Our 2015 book challenge is running strong and we only have two and a half places left in our sign up list. If you would like to be a part of this unique event, then now is the time to sign up!
But do read the details before you commit as it will take a creative investment and a little bit of money.
One question that came back quite often was "where to start?" How to get that ready made book under the Christmas tree and get over the writer's block created by the white page as this little adventure might be slightly overwhelming at first.
Today I will give you the simple walk through of how I tackled my very first book a few years ago and I use the same selection fundamentals today. It is an easy, straight forward simple way that you can do this weekend for yourself with your own pictures, at your own speed, even if you do not participate in our epic book exchange here on Stuck In Plastic …
Step 1. Get Ready
Make yourself comfortable with a nice cup of tea, a glass of red wine or a freshly pressed milkshake in your favorite spot and get ready to browse your own @instagram feed and take a trip down memory lane.
But first we need to gather some statistics.
Determine what is the picture with the most likes in your feed. I am pretty sure you have a good idea of it. Write that number down on a piece of paper before you go and have a look (lets assume it is a 100) and now you can have a quick sneak peak at that image and see if it is still around that number or you actually are much more popular and it is now 150. This number minus 10% is your high end (so 100 becomes 90, 130 if you made it to 150).
Now determine your average likes you get. Just look at the last few pictures and lets assume it is something like 70. This is your average number.
These two numbers are your audience meter. We will soon add a third dimension to it, but your friends are a very good measurement of what good looks like.
Step 2. Make the initial selection
Take a sip of that wonderful shake or warm tea and put your feed in full view (so not the grid) and start scrolling down.   For every image you will have to ask yourself three simple questions and if the answer is yes, you will tag it with a unique #myownname_bestof2015 hashtag in IG.
Is this image above the high end ? Yes, tag it.
Is this image above the average number and you don't understand why it was not a winner, your friends really didn't get it, did they ? Yes, tag it.
Regardless of the likes, this image really should be in. You feel so connected, it is a waterfall of great emotions, it just needs to be in. Yes, tag it.
Do this all the way until you are back into 2014 and have a quick look at your hashtag #myownname_bestof2015 and look at the total image count.
If you have between 14 and 24 pictures you are in a good place and can move on to the next step. If you only have a handfull, you most probably were to harsh on yourself, just repeat point 3, you will need at least 10 images, 12 is better and 14 is good.
If you have way to many winners, repeat steps 1, 2 and 3 but now with the calibrated numbers and look with a little bit more critical eye to your images. Maybe you added a few too many doubles, or you just need a bigger book because this was an epic year, but don't go over 36 images! ;)
You now have your selection.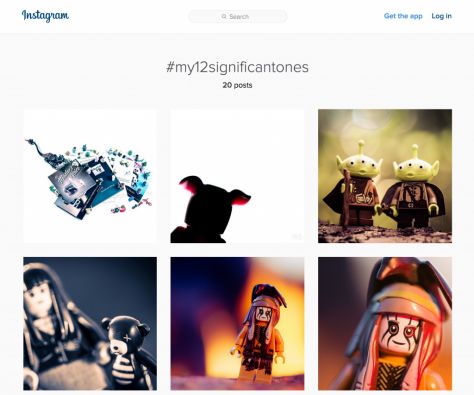 Step 3.  Make the booklet.
Blurb is my favourite bookstore (I am in no way affiliated with them, I just really like their quality and Shelly pointed out some great alternatives last year here) and if you are new to all this just go to Blurb and click their online Bookify tool to get a taste of it. (Blurb sometimes confuses folks with their Instagram design where you need 60 pages, but with Bookify, you can just make a simple twenty page booklet straight out of Instagram as well).
Go to Blurb and click make a book online
And select the square small format, especially since we grab the pictures from instagram, going bigger does not really work anyway.
Et Voila (this is kind of french for magic happens), you can now select Picasa, Flickr, Facebook, SmugMug, but also Instagram !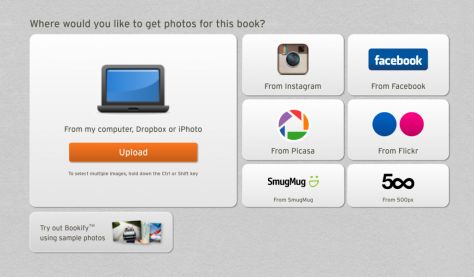 Log on to Instagram, and now you can select your images.
You cannot go by your hashtag (sorry) but you did make the artistic selection, so just select the tagged pictures from your step 2 into your working book area … making the selection upfront really helps. Don't try to select your images at this stage.
You now have your photos ready …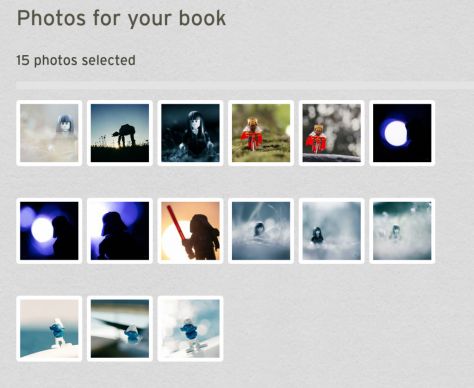 And good to go to do some online creative editing …
You basically have twenty pages (the minimum to use with most book producers) and you now can group them in historical order where you put the main best picture on every "odd" page starting on page 3 (so 3, 5, 7, …)
You can save your work (recommended, you need it anyway if you want to print one, and you really should save before you start adding text. Bookify sometimes crashes, so save every 20 minutes … ) and come back after a break. This is your skeleton; your not so white paper anymore.
Ready to go …
You can then easily add onto the even pages some supporting images (you see why you should not limit yourself to just twelve in your initial selection) and a little bit of text just like in the below example …
All directly in the online editor, with just a few clicks, easily drag and drop and before you know you have a $15 USD booklet, ready to ship, filled with plastic or other memories. Simple, timeless design, focused on your images and memories.
And then there is more, much more … there are hundreds of posts and trainings on how to make books online, but the above three steps are how I created my very first booklet. Today I like to use Lightroom to make my Blurb Books, so I can have much better photo quality and actually print a personal book in coffee table size for the same effort, but that will be for another post (if you all are interested).
For now, I just wanted to share how easy it is to get some digital memories printed in a real book, ready to wrap under the Xmas tree and share with your loved ones.
Enjoy !
Me2
Oh, and before I forget, Blurb is running a little special this weekend (all the way until the first of December) with 40% off on any order above 25 USD so now is a good start to get creative and use the code CREATIVE40 …
PPPS:  Let us know if you like these kind of more hands on how to, or you don't need another site telling you how to do it :)