Last week we introduced a new feature here on the blog with very little noise as we were not really sure how it was all going to play out and if there was any real interest. Within minutes of that post, we had our very first image tagged to #stuckinplastic_pcm and it was that exact same image that both Shelly and I brought forward in our  hangout last night when we went into our very first Stuck In Plastic friendly Please Critique Me session.
When I first saw the image of @Ballou34 I knew I wanted to critique it because I instantly loved it. One of the key misconceptions about critique is that it is about finding fault in one image.
It is actually the complete opposite.
It is about finding those images you care for, try to identify what it is that makes that inner connection and see what makes it so special. What makes it connect… and then see where you can potentially improve it.
Critiquing is a very personal experience. It is all about trust. It is about opening up your image to someone you care/trust so both learn from it and we do want to thread very careful here as it is a very personal experience.
So thank you, @Ballou34 for putting so much trust in us, to open up your imagery here for us on Stuck In Plastic and we hope you feel we are worthy of that trust.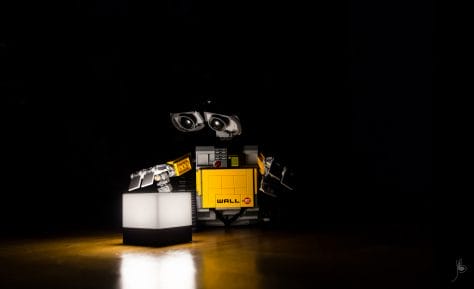 So why did I connect ?
Wall.E is iconic, and I have it very high on my to get introduced to list, so when I saw this shot, I instantly felt I could/should have taken it. Wall.E reaching out to the light, making that connection to E.T., connecting with me across universes; the robotic innocence of discovering a squared light and wondering what it all mean; a very emotionally compelling image indeed,
If there is one element that pulled me over, it is the twinkle in the eyes. It really brought the whole image to life for me and was the one element that indeed pulled me in and made me push it into the hangout.
So, how did the others initially reacted ?
Both Mike and Shelly really liked the image (Shelly mentioned before she felt it was to nice to critique) and we had quite a good time discussing it (we should maybe air our hangouts afterall).
Mike jumped directly to Flickr to see the full view (IG is still lagging behind Flickr when it comes to full sensory overload) and the very first comment I jotted down was the watermark (an ever ongoing discussion here).
Mike thought it to be distracting.
I luved the little butterfly.
Shelly went silent.
We all agreed the image was beautiful, but what if we would have shot it ?
Mike:
Love the lights in the eyes.
I would have put in a little rim light on the back of Wall.E to just make Wall.E come out a little better.
The image on Flickr indicates no strobes were used during this shoot.
Shelly:
Boys and their toys (referencing the strobes comment), I just love the image.
Me2:
… the background is black. And the white reflection is very close to blanking out …
Mike:
Agree, negative space is great, but black is black.
So, long story short (we spent at least 20 minutes discussing this most awesome image) we all love it, but would love to see a re-submission one day of @ballou34 where the background lifts itself up beyond full black and a little rim light creates a visual lift between Wall.E and its background to make this image even more awesome.
If you do not follow Ballou34 yet, now is a good time to follow him on Instagram or Flickr.
We love his work.
[instagram-feed type=hashtag hashtag="#100_shadows" num=16 cols=4 showcaption=false]
Thank you for taking this leap of faith with us.
Me2