Vesa wrote a bit about locations last month,  and how they can inspire photographic adventures. My experience has been almost the exact opposite.
Last week I was up in Edinburgh for the Fringe Festival, and being a dutiful toy photographer I took with me a small selection of minifigs. I also took my 'travel camera', a small Fuji mirrorless camera with a macro lens that is considerably smaller and lighter than my DSLR setup. I would hate to get stuck in front of the perfect photo opportunity with only my phone camera.
The result of the week-long Scottish expedition was one photograph, which I ended up taking on my phone anyway. This is not an uncommon situation when I travel.
Now the Fringe Festival doesn't particularly lend itself to relaxing photowalks. A good percentage of my time was taken walking to venues (there are around 400 of them scattered around the city), queuing outside venues, seeing shows, trying to find places to eat, and sleeping. I did, however, have a couple of free hours to wander around the Edinburgh streets with the intention of doing some toy photography.
Edinburgh is a pretty city, although during the Fringe it is exceptionally busy (trying to walk down the Royal Mile on a Saturday at any sort of speed above stationary demands a lot of concentration and the weaving ability of an agitated fly). There are countless touristy photo opportunities, but as I walked around with a camera strapped to my wrist and a spaceman and his tiny friends in my pocket, I couldn't think of anything to photograph.
Most of my toy photography, despite being plastic, is character-based. There's always a 'person' in the scene, and they're the main focus. Even when location is important, it's normally a location that I've created myself: the sandy plains of Tatooine, or frosty wastes of the Hoth System. For those locations it's much easier for me to make them in the studio than try and set something up in the baking heat/numbing cold of the real world.
The conclusion I came to after my second fruitless wander around Edinburgh's street, castles and museums was that this isn't the way I take toy photographs. Being in a different location doesn't help me, in the back of my mind I feel as if photos should be easier because my surroundings are new, but that's not the case.
If I had an idea of what I wanted to do in advance, I might have had some success, but walking around waiting for ideas to reveal themselves is not the best way for me to work. I'm much happier crouched over a table, bumping into light stands, and trying not to get sand all over the carpet again.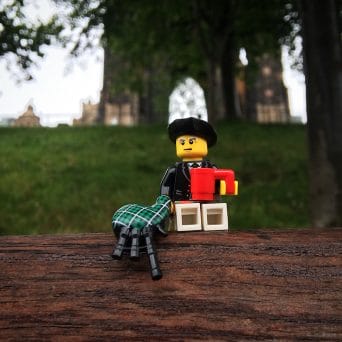 – Mike