it was july 7, 2013. i was in a long line at the grocery store. it was a summer day and sunshine-starved danes (yes, we are often starved for sunshine in the middle of the summer in denmark) were piling their baskets with grillables and rosé and rushing towards the register, to get home before the sunshine left again. the line was long and there was no sign of them calling another cashier to open another register, so i was stuck. as i was waiting, i glanced to my left and there was a display of small, shiny, colorful bags of LEGO minifigures. prominently depicted on the package was a minifigure of a guy in a chicken suit. i had a brood of hens at home of which i was inordinately fond and i thought, "i've gotta have that chicken suit guy," so i grabbed a couple (or three) bags and tossed them in my basket.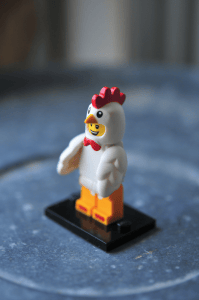 i got home and tore them open. alas, chicken suit guy was not among the first three packages i bought, so back to the grocery store i went, on some invented pretext of having forgotten to buy butter. at that point, i still felt sheepish about telling anyone that i was buying toys for myself.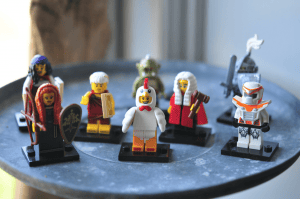 naturally, i didn't get the chicken guy until the third trip (for some reason, my mental limit was 3 bags as a time) and mystery bag number 8. but by then, i was hooked. the thrill of ripping into those bags and the excitement about what would be inside, the delight in the clever details had lodged in my soul. i discovered that two local toy stores and the local campground also had collectible minifigs. the campground even had vintage ones (series 3-4-5), which i quickly realized was pretty cool. i also did my share of sending the children into legoland (it's nearby, what can i say?) to feel up bags (another thing i learned rather quickly) to get the ones i needed wanted.
looking at flickr, i can see that by only two days later, i already had acquired 20-odd minifigs from series 4, 7, 8 and 9. in short. i was hooked.
and it's both weird and understandable. i'm not an AFOL (and at that point, i had no idea what that was), but i am a collector (of fabrics, pens, pretty paper, 70s danish stoneware, essie nail polish, typewriters,  candle holders, books, i could go on, but that's the stuff of a different post). why am i not an AFOL? well, i didn't go through a dark age with LEGO, because i never played with it as a kid. (pause for gasp of surprise from the community.) i had a pony. i loved barbie (i'm still traumatized by the loss of my older cousin's fabulous barbie collection in a fire when i was 6). and although i've bought loads of LEGO for my daughter (who is growing up in denmark, so it's a must for qualifying for a passport), i was never really the one to build it. back when i worked for maersk, i bought three of the maersk ships for my daughter and my two nephews one christmas and i can recall being the one who kept my sister and my husband supplied with cocktails as they built, but i didn't help much, except for applying stickers to the containers, which i quite enjoyed (further proving i'm not an AFOL).
by november, i had quite a collection going. but even in the excitement of discovery and the heady frenzy of accumulation of those first minifigs, once i had photographed them, i found i didn't have a great desire to keep them. the thrill for me is in the hunt and in the cataloging. if you're my friend who is a librarian, i'm happy to give you the librarian girl. if you played medea in a high school production and feel nostalgic about her and i've taken her picture, she's yours. (just don't touch my wonder woman, that's where i draw the line.)
and somehow for me, a little mystery pouch of mini figures still to this day contains the aura of summer. of sitting in my plant-filled makeshift greenhouse of a front entryway, breathing in the scent of prolific tomato plants, a cold glass of wine at my side, beading up with moisture on the glass, the little bags lined up, a scissors at the ready on the table beside them.  i remember the excitement i felt as i opened each pouch, peering in to see whether it would be something new or yet another cyclops (which i dubbed a troglodyte in my head).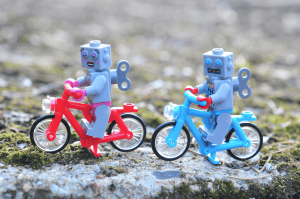 today, i'm pretty good at feeling up the bags and i have a pretty good source of minifigs, so i generally get the ones i want rather easily. i do miss the thrill of the hunt, tho', and feel a bit nostalgic when standing in line at the grocery store. plus, i'm more attached to some of them than i once was. i tend to keep the animal-suit guys. and i've learned to accessorize as well. and the antique scale in the light of my living room window is no longer my photograph location of choice. i've become more adventurous, trying to create more whimsical scenes in natural settings.
i love natural light. my 60mm macro lens, my reliable old nikon D300, and my own backyard. i'd rather take a million shots to get one i like than to fiddle around in photoshop. generally, the only adjustment i make is a bit of cropping. and i nearly always have batman in my pocket these days. but, although i love LEGO, and i'm (ostensibly) an adult,  i'm still not an AFOL.  are you?
* * *
julochka is an american in denmark. she blogs about her everyday (including, sometimes, LEGO, but mostly to keep her sanity, at moments of perfect clarity) and is julochka on instagram (where there are an awful lot of cats in her feed). you can also find her on flickr. as you can tell, she's not much into capital letters.
writer. blogger. photographer. generator of ideas. co-creator. finder of solutions. slightly mad about LEGO. disciple of appleism. my real camera is a nikon.